Our liquor store has thousands of beer, wine, champagne and spirits available. With this many choices a lot of questions can arise, and we are here to respond. Feel free to contact any of our managers with your questions. You can learn more about them and their areas of expertise below. Or stop on by to talk to us in person (map, for directions). You may also wish to contact our alcohol delivery service, Colonial Spirits Delivers, with questions about where and when we deliver. Feel free to call in with any queries: 978-263-7775
Timothy C. Bush
tim@colonialspirits.com
Tim has been at Colonial Spirits for over 10 years, starting out as the store's beer expert.  A love for all things made from barley helped him become the store's whisk(e)y expert and spirits buyer, although he maintains a passion for beer.  If you like scotch, bourbon or beer stop by and introduce yourself!
Nicolay F. Castro
Wine Director
nicolay@colonialspirits.com
Nicolay is a wine expert, with an attraction to New World Wines. Classes at Boston University sparked his interest in wine and earned him his expert status. Nic is a great person to ask about the right wine to bring to a gathering or give as a gift.
Steve Lane
Wine Expert
steve@colonialspirits.com
Brett Worden
Front End Manager
brett@colonialspirits.com
Brice Penaud
Beer Manager
brice@colonialspirits.com
Bill Raine
Craft Beer Expert
bill@colonialspirits.com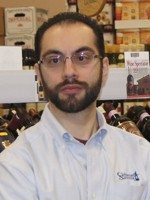 Nicolas R. Haegeli
Former Wine Manager
After 8 years, Nic has moved on to sell wine with a prestigious importer.
Good luck, Nic!
Contact Form