Our liquor store has thousands of beer, wine, champagne and spirits available. With this many choices a lot of questions can arise, and we are here to respond. Feel free to contact any of our managers with your questions. You can learn more about them and their areas of expertise below. Or stop on by to talk to us in person (map, for directions). You may also wish to contact our alcohol delivery service, Colonial Spirits Delivers, with questions about where and when we deliver. Feel free to call in with any queries: 978-263-7775
Timothy C. Bush
tim@colonialspirits.com
Tim has been at Colonial Spirits for over 10 years, starting out as the store's beer expert.  A love for all things made from barley helped him become the store's whisk(e)y expert and spirits buyer, although he maintains a passion for beer.  If you like scotch, bourbon or beer stop by and introduce yourself!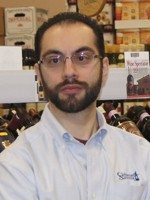 Nicolas R. Haegeli
Wine Manager
Advanced Certified (Wine and Spirits Education Trust)
Certified Specialist of Wine (Society of Wine Educators)
nic@colonialspirits.com
Nic has been with the store since 2006. He is our old world wine specialist. His grandfather & great-grandfather were wine négociants in his native Alsace, so you could say that a passion for wine runs through his blood. He is a great admirer of French and Italian wines, but is partial to sake, cider, and Belgian beers. Nic is also highly skilled at pairing wine with food, so ask him for the perfect compliment to your meal.
Nicolay F. Castro
New World Wein Director
nicolay@colonialspirits.com
Nicolay is a wine expert, with an attraction to New World Wines. Classes at Boston University sparked his interest in wine and earned him his expert status. Nic is a great person to ask about the right wine to bring to a gathering or give as a gift.
Contact Form