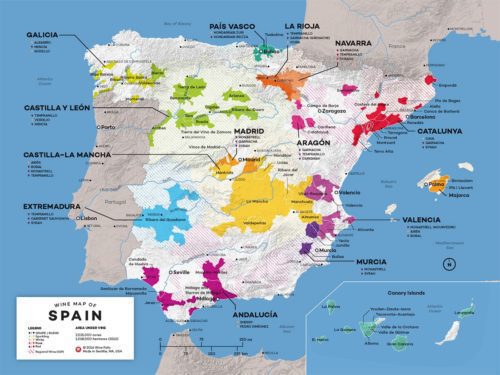 Spanish wines have been on the forefront of the wine industry for the last two decades.
However, it wasn't until the last 5 years that Spanish wines have truly flourished. Once only known for Rioja or Tempranillo, Spain has become so much more than that. With regions like Ribera del Duero, Priorat, and Rias Baixas and grape varieties like Albariño, Garnacha, and Mencia seen splattered on wine lists across the nation, Spanish wines are making a comeback in a big way.
Most wine enthusiasts know and recognize Rioja and its wines. They also know that Tempranillo is the preferred varietal in the region. But did you know that Tempranillo's reach extends outside of Rioja and into regions like Ribera del Duero and Toro? More importantly, did you know these other regions existed? With around 79 D.O.s (Denominacion de Origen) and 2 D.O.C.s (Denominacion de Origen Controlada), Spain is almost in a category all to its own.
Due to Spain's numerous of wine producing regions we will focus on a few select regions to expand our knowledge of one of the leading wine countries in the world.
Continue reading

Spanish Wines Vinolution: More than La Rioja