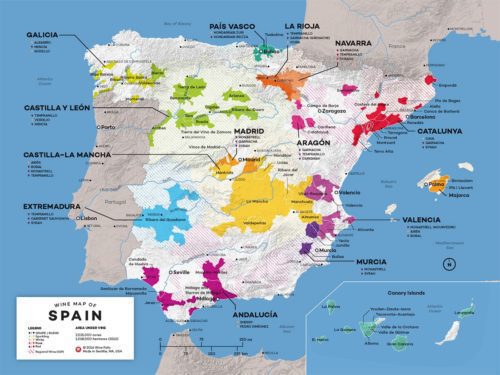 Spanish wines have been on the forefront of the wine industry for the last two decades.
However, it wasn't until the last 5 years that Spanish wines have truly flourished. Once only known for Rioja or Tempranillo, Spain has become so much more than that. With regions like Ribera del Duero, Priorat, and Rias Baixas and grape varieties like Albariño, Garnacha, and Mencia seen splattered on wine lists across the nation, Spanish wines are making a comeback in a big way.
Most wine enthusiasts know and recognize Rioja and its wines. They also know that Tempranillo is the preferred varietal in the region. But did you know that Tempranillo's reach extends outside of Rioja and into regions like Ribera del Duero and Toro? More importantly, did you know these other regions existed? With around 79 D.O.s (Denominacion de Origen) and 2 D.O.C.s (Denominacion de Origen Controlada), Spain is almost in a category all to its own.
Due to Spain's numerous of wine producing regions we will focus on a few select regions to expand our knowledge of one of the leading wine countries in the world.
Navarra: Rioja's little brother that offers so much.
Navarra abuts Rioja, and much like Rioja its focus is on red wines. That, however, is where the similarities end. A once thriving wine region, Navarra saw its spotlight fade due to phylloxera. Fortunately, this unwelcomed event allowed Navarran wineries to think past Tempranillo and replant vineyards with other vinis vinifera varieties. Now a leader in the production of Garnacha (Grenache), Navarra has diversified and leads the way in the production of international grapes.
Navarra's success is due to the many influences that surround the region. To the northwest, there is the Bay of Biscay (Atlantic), to the north the Pyrenees, and through it the Ebro River. These key features not only play a role in the regions topography, they also contribute to the growing season. With warmer summers and mild winters, Navarra enjoys the benefits of one of the most sought after climate types, Mediterranean. The Mediterranean climate benefits red wine production more so than it does white wine production. Nonetheless, there are small pockets of vineyards within Navarra that do have the right climate for white wine varietals.
Navarra still has a long way to go before it is as recognizable as Rioja. While it waits, Navarra wineries have the window to fine-tune wines that could possibly even overshadow Rioja some day. Only time will tell.
Castilla y León, Ribera del Duero: From Douro to Duero the wines are unquestionably top-tier.
If Rioja is to Spain what Tuscany is to Italy, then Ribera del Duero is the Piedmont. As well recognized within the wine community as Rioja, Ribera del Duero is a mystery to the general consumer. Even though Ribera del Duero utilizes Tempranillo and follows a quality system similar to that of Rioja's, the region is mostly unknown. That hasn't deterred producers like Vega Sicilia, Alejandro Fernandez, and Dominio de Pingus. In fact, it has done the opposite. Wineries feel compelled to create wines that are exceptional in order to prove their worth.
Surrounded by the Sierra de la Demanda and Sierra de Guadarrama mountain ranges and at an altitude of 2800ft, Ribera del Duero is a desert. Hot days, cold nights, scorching summers, and frigid winters make the region a vineyard manager's nightmare. Work through the struggles and overcome the conditions and the rewards are abundant. Dense, ripe fruits that produce structured and long-lived wines.
Like the best Baroli that seem to age forever, so do the wines from Ribera del Duero. Its silkiness, spices notes, round tannins, and fruit flavors make Ribera del Duero a region to contend with the rest.
Catalunya, Montsant: An alternative to Priorat for less and without the wait.
To say that Montsant is a baby Priorat is not giving Montsant enough credit. But from a retailers perspective, it is much easier to define it as such than describe the wines. Montsant D.O. surrounds Priorat so it shouldn't be a surprise that the wines are similar. From the steep slopes that are plastered with old vines to their affinity for Garnacha (Grenache). In a contrast to the Rhone, the steep slopes, longer exposure to sunlight, and cooler night create the perfect condition for ripening Garnacha.
Garnacha, traditionally, requires a lot of sunlight and warmth in order to fully ripen. In the Rhone Valley, it is the southern part that has the perfect environment, while the northern Rhone emphasizes Syrah. Alongside the topography and climate, there is also the surrounding landscape that plays a part in making Montsant a winemaking haven. Surrounding, and in some places incorporated, are the Montsant and Monsalt Mountains. The formation of these mountains brought up granite and slate, two soil types known for their great drainage that also make up the majority of the vineyard sites in the region.
Spain isn't just Rioja and it won't be long before the other DOs are household names.
How well-known? One can only hope that regions like Montsant and Navarra are spoken about with as much admiration as Burgundy. Or their wines are as highly sought-after as those from Tuscany or the Piedmont. Spain may have a winemaking tradition that dates back centuries, but the recent undertaking of creating DOs and DOCs demonstrate they are still learning. Long ways from being France and Italy, Spanish wineries will produce many good wines over the years. Most at prices neither of the other two countries can come close to.