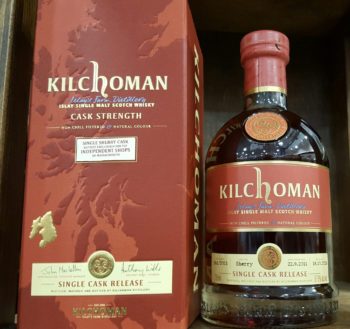 Colonial Spirits proudly announces our very first  single malt private barrel selection…
Introducing Colonial Spirits' first Single Malt Whisky private barrel… The independent barrel for independent retailers is a unique collaboration between like-minded retailers, who also happen to be Scotch enthusiasts.
Choosing special barrels to be bottled for Colonial Spirits is a privilege we've had before with several Bourbon distillers.  Selecting a Scotch whisky cask is a little more involved however.  By working with Scotland's smallest independent distillery (also one of the best) as well as a few qualified independent retailers, we had the opportunity to purchase an extremely valuable sherry cask – to be bottled for our stores.
Kilchoman has made its mark in the world of Scotch by carefully crafting whisky from a high-quality mash and sourcing the best barrels that they can find.  They proudly compete against well known whiskies with bottlings much younger than what larger distilleries would have you think is necessary.
Our selection embodies the depth and quality that Kilchoman is known for and brings a unique sherry cask aged, peated whisky to life.  The color is astounding (a testament to the quality of the barrel) and the flavor leaves no wants.  Cooked fruits and cinnamon lead the nose towards layers of richness, sweetness and peat smoke.
Being able to select such an amazing whiskey from one of my favorite distilleries was a treat and I hope that you will enjoy the whisky as much as I do.
Cheers, Tim
Selected from an Oloroso Sherry Hogshead, Bottled at 57.8% abv
$125/btl – while supplies last