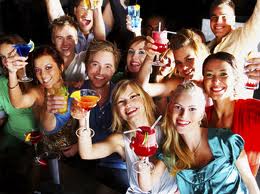 We hope that this brief guide helps you as you plan your next event, but if you have any questions you can always call Colonial Spirits and chat with our friendly staff of experts: 978-263-7775. Or visit our Contact page to get in touch.
If you are having a party, wedding, or a special gathering we have got some tips to help you make the event a success! The first rule: when in doubt, buy a little extra – anything unopened can always be returned to Colonial Spirits with our hassle free return policy. Here are some other rules of thumb to consider…
Generally plan for about 1 drink per hour per guest. People tend to drink a little bit more when the weather is warm and at weddings. Adjust this figure up or down depending on your guests and the event.
Beer tends to go quickly so consider a keg for large gatherings.
Serving wine with a meal typically requires 1 bottle (750mL) for every 2 to 3 guests. As an alternative, if several different wines are to be served, about one glass per course is appropriate.
If you'd like to serve mixed drinks, a basic bar must include rum, vodka, gin, and whiskey. Remember that you'll also need dry and sweet vermouth, and juices for mixing! – Mixed drinks usually require roughly 2-4oz of mixer (tonic, soda, juice etc.) per drink.
Plan to have non-alcoholic beverages available. Sparkling and still water are important.
Often, simply sticking to beer and wine is an easy and effective way to plan for a large gathering. When deciding to include cocktails we recommend building a basic but flexible bar so that you are not limited to just a few mixed drink options. A basic bar should include…
Vodka, gin, rum, whiskey, sweet and dry vermouth, triple sec, cranberry, orange, and pineapple juices, simple syrup, fresh lime juice as well as lemons, limes, and cherries for garnish.
Many more drink options result from the addition of…
Both scotch and bourbon, brandy, tequila, basic liqueurs (Bailey's, Kahlua, etc), themed liquor (Ouzo at a Greek event, Campari or Limoncello at an Italian, etc), oranges and cocktail onions for garnish.
A professional bar will also include…
Single malt scotch, Cognac, and premium liqueurs (Cointreau, St Germain, Chambord, etc) and bitters.
How many drinks are in a bottle?
Liquor – assumes 1.5 oz per drink
750mL 16 drinks
1L 21 drinks
1.75L 37 drinks
Wine – assumes a 5 oz. serving
750mL 5 drinks
1.5L 10 drinks
How many beers are in a keg?
When beer is produced, the end product is measured by barrels. In the US a barrel is 31 gallons of beer. Keg size is determined by this measurement. The largest available keg for consumers is the 1/2 Barrel Keg. You can visit our beer kegpage to see what kegs we have available and can order. So, a quick guide to keg size is as follows (approximate)…
1/6 Barrel = 54 Beers
1/4 Barrel = 82 Beers
1/2 Barrel = 164 Beers