Acton Liquor Store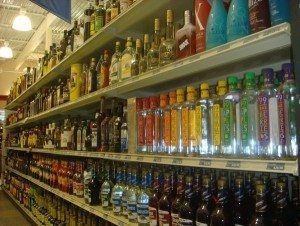 Colonial Spirits of Acton offers a selection of fine liquor from all over the globe. Single malt scotch, gin, vodka, tequila and whiskey-- you name the spirit and you will find it on our shelves.  Our Acton liquor store is the best in the area.
You can also buy liquor online from Colonial Spirits, and have it shipped to any Massachusetts business.
We have monthly liquor specials you may also want to check out, and for your reference, we have provided several popular cocktail recipes if you are looking to concoct a new beverage.
Please also see our events calendar for the frequent liquor tasting events we host, and if you like talking shop jump over to our liquor blog for our staff's latest thoughts on all things spirits.
We specialize in carrying bottles of hard to find products. A partial list is below but please contact us if there's something else you'd like us to try to track down.
Maraschino Liqueur
Velvet Falernum
Crème de Violette
Apricot Liqueur
Allspice Dram
Pisco
Lychee Liqueur
Octomore Scotch
Amrut Fusion (call for availability)
Pappy Van Winkle Bourbons (lottery item)
George T Stagg Bourbon (lottery item)
Thomas H. Handy (lottery item)
Eagle Rare 17 Year Bourbon (lottery item)
William Larue Weller Bourbon (lottery item)
Buffalo Trace Bourbon
Milagro Select Barrel Reserve Tequila Series
Old Tom Gin
Junipero Gin
Vermouth and Amaro