Welcome to the limited release lottery!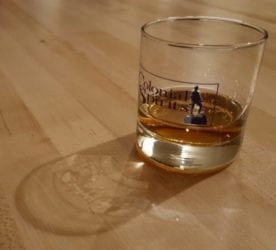 If you have found your way here but wish to enter the Pappy/BTAC lottery click here.  This page is the secondary lottery, used for sought-after items that folks aren't quite as crazy about as the aforementioned.
Enter the Colonial Spirits Limited Release Lottery for a chance to win the right to PURCHASE one of the hard-to-get bottles we recently announced on social media or through our spirits email.
How it Works:
Here and there we get just a few bottles of things that everybody seems to want. We wish that we got more, but that doesn't seem to be the way the world works.  So, in an effort to give a fair shot at acquisition to our loyal customers, this lottery system was created. Your store receipt is your lottery ticket (enter below).
The number of bottles put into the lottery equals the number of winners. The first name selected gets to reserve, for purchase, one of the available bottles – the one of their choosing from what is available. The second name selected gets to reserve, for purchase, one of the remaining bottles… and so forth until all bottles are reserved.
If you win, no purchase is necessary, however reserved bottles must be purchased within 2 weeks or another name will be selected.
How to Enter: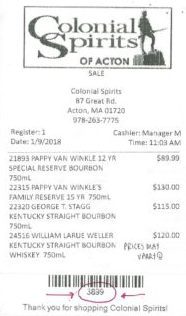 Using the form below, entries may be made using the sale number from your purchase receipt along with your name and email (you will be signing up for our Liquor and Events email lists). Each receipt that you have is valid for one entry and there is no limit on how many receipt based entries you can make as long as they are from unique receipts (no duplicates) and are from different days/ times (breaking your purchase into multiple receipts at the time of check out is not allowed as it is discourteous to others in line). Bottle redemption / item return receipts will not be accepted.
Please play fair. Intentional invalid entries, duplicate/fake receipts and other means of cheating the lottery will result in disqualification for life.
All rules are subject to the laws and regulations of the Commonwealth of Massachusetts and the discretion of Colonial Spirits.
What / When can you win:
Remember, the lottery is for the right to PURCHASE a bottle. So, what are you hoping to get here?
This time around (June 2018) it's Weller 12yr, Elmer T. Lee and… Old Fitzgerald 11yr Bottled-in-Bond Bourbon!
The drawing for these was held on June 19th, 2018