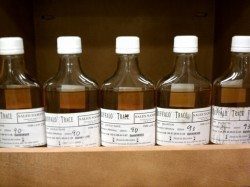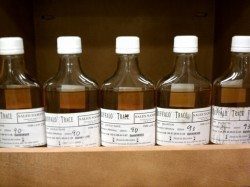 Your favorite whiskeys are ones that consistently deliver a specific flavor profile, never letting you down. In order to ensure this quality, a careful blend of whiskeys from a number of barrels is created by the master distiller. After all, each and every barrel is a little different and even the height at which they are stored in the warehouse effects how the whiskey develops over many years.
Colonial Spirits has been offered a unique opportunity to purchase a single barrel of whiskey from either Blanton's or Eagle Rare. This barrel will be a unique expression of the whiskey and, although similar to the fine offerings we see on the shelves, is distinct and sold only by Colonial Spirits. The unblended, raw product from one single barrel will be bottled exclusively for Colonial Spirits and labeled as such. These offerings are available only in the quantity left in the chosen barrel and will present an irreplaceable interpretation of a classic Bourbon.
The selection will take place on Friday, August 17th at 5pm and we want you to decide with us. We have 3 samples of Eagle Rare and 2 sample of Blanton's, however only about 150mL of each so the opportunity to taste and vote is limited.
Please join us and bring your most discerning palate in order to assist in choosing the best barrel to be bottled and offered this fall.