E. Guigal Cotes du Rhone 2009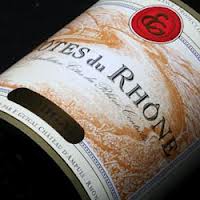 The Guigal Estate was founded in 1946 by Etienne Guigal in Ampuis, a small ancient village and cradle of the Côte-Rôtie appellation. It shelters a unique vineyard where the vines and the wines have been famous for 2,400 years. Arriving in 1924 at 14 years old, the founder vinfied 67 harvests in Côte-Rôtie and, at the beginning of his career, took part in the development of Vidal-Fleury establishment.
Since 1946, hard work and perseverence have born fruit and certain events attest to this, notably the purchase of the Vidal-Fleury Establishment in the mid '80s. Although belonging to the Guigal Estate, Vidal Fleury maintains commercial and technical autonomy.
The GUIGAL Estate vinifies and ages the wines of the Southern Rhône appellations in its cellars in Ampuis. The wines of the great Southern appellations Châteauneuf-du-Pape, Gigondas, Tavel and Côtes-du-Rhône are also aged in these cellars.
This season's most popular wine is E. Guigal Cotes du Rhone 2009!  Fresh fruits with red berries and spices make up a full-bodied, rich and intensely aromatic wine.  A long finish, plenty of elegance and finesse make this well balanced the perfect complement to a meal.  Don't miss out on our special price of only $10.98 per bottle!