Bordeaux Wine Dinner at Rapscallion
October 2, 2017 @ 6:30 pm

-

9:30 pm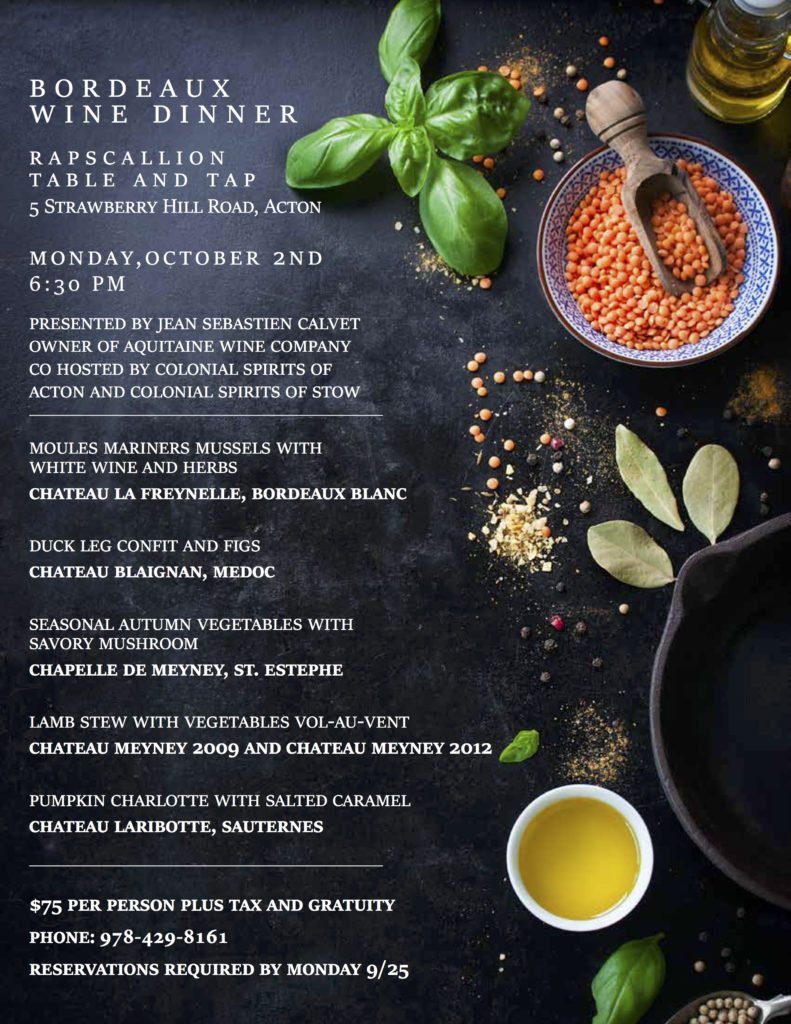 This is our 3rd Wine Dinner of the year, and what better venue than Rapscallion.
Located at 5 Strawberry Hill Rd, Acton, Rapscallion has skyrocketed into popularity in the local food scene. This is in part to the location, but most of the praise goes to the food and beer. With a variety of delicious self-brews and a menu that is mouth-watering, Rapscallion has hit the nail on the head. For those that don't know, Rapscallion has a calm and relaxed atmosphere that makes you want to stay and hang out, especially if it's a wine dinner. The food is always interesting but, more importantly, great. And the brews; fresh. We are fortunate to have them host this event as they keep rolling day after day.
To learn more about Rapscallion Click Here
Aquitaine is an importer that specializes in wines from Bordeaux. Representing top names and newcomers, Aquitaine was founded on finding the best Bordeaux had to offer. And that is what they did. A couple hundred years later and Aquitaine is a worldwide leader in wines from Bordeaux with an extensive portfolio and a network that spans over many countries. This is what they do best and now they want to show it to you.
To learn more about Aquitaine Click Here
Together with Rapscallion, Aquitaine, and Colonial Spirits of Stow, we are inviting all to join us for a Wine Dinner.
On Monday, October 2nd, 2017 Rapscallion will be opening up their doors to host a Bordeaux-centric wine dinner. 5 courses, 6 glasses of wine, and all for the fair price of $75 per person (Tax and Gratuity not included). If you would like to RSVP call Rapscallion at 978.429.8161.