Grand Wine Tastings: Winter 2018
December 1, 2018 @ 2:00 pm

-

5:00 pm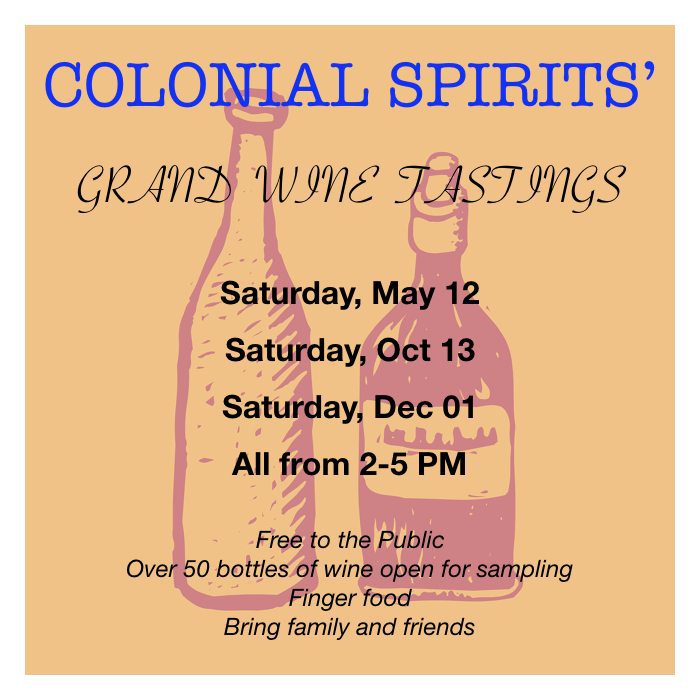 Finally in writing are our Grand Wine Tastings for 2018.
Our seasonal Grand Wine Tastings are events that look at what we have done and have to offer. These tastings represent the wine department because the encompass the breadth of the department. Unlike the Try Something New tastings that will be taking place, the GWT allow you to try old favorites alongside newcomers. And in a dynamic business like ours, taking time to try wines is important. With so many to choose from, it is nice to sample them.
Still into oaky Chardonnay? We will have them. Never tried a Muscadet? They will be there. Want to sample an extravagant Napa Valley Cabernet Sauvignon? You can bet a bottle or two will be available to try.
But why stop there!
With an opportunity to try 50 or more bottles of wine, there will be plenty to go around and choose from. The Grand Wine Tastings are our most visited events and anticipated events for a reason. We aren't looking to push an agenda or force-feed you the latest find. No! We want our customers to sample through what we have to offer and find their favorite. Maybe you are tired of your go-to and are looking for the new table topper. This is the event for you. Maybe you want to see if there are other wines that feel familiar but offer up a unique twist. This is the event for that.
There are so many different wines out there. Why limit yourself.
So…If you are looking for a change and on a hunt, stop by and see what will be available.
As always, this event is free to the public. Bring family and friends and enjoy an afternoon of times with good wines.
In conjunction with the Grand Wine Tastings, we will also be hosting our Try Something New wine tastings. To see those dates CLICK HERE.