Loire Valley Wine Weekend
July 2, 2016 @ 9:00 am

-

July 3, 2016 @ 6:00 pm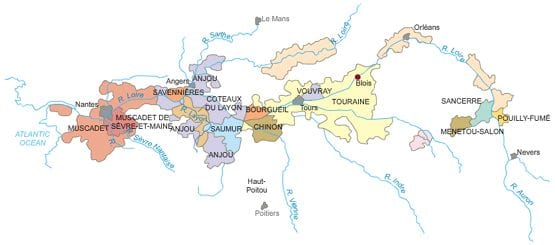 Do a Google search on the Loire Valley and, regardless of the main topic, you're likely to find that the most common term used to describe the region is "diversity." From the river's source in the central mountainous Massif Centrale, to its mouth at the Bay of Biscay some 620 miles to the west, the region is rich in biological, environmental, architectural, agricultural and historical abundance, making the Loire Valley one of the most popular regional tourist destinations in France.
That being the case, it should come as no surprise that, of all of the country's viticultural regions, the Loire produces the greatest diversity of white, red and pink sparkling and still wine styles. Interestingly, the region's winemakers, who represent the Loire's five major sub-regions and more that 60 AOCs, manage to do so with a relatively small selection of both white and red grapes; primarily Sauvignon Blanc, Chenin Blanc, Melon de Bourgogne, Pinot Noir and Cabernet Franc. What makes such variation possible is the diversity of the region's climatic conditions, soils, topographies and other natural conditions.
To learn more about what makes Loire Valley wines so diverse, the Colonial Spirits wine team invites you to try a few representative samples at a free tasting this coming Sunday from 1:00 to 4:00 pm. We will also be offering a 20% discount on six or more bottles of every Loire white and red in the store from 9:00 am on the 25th until our 6:00 pm closing on the 26th.