Spring Grand Wine Tasting 2019
May 18, 2019 @ 2:00 pm

-

5:00 pm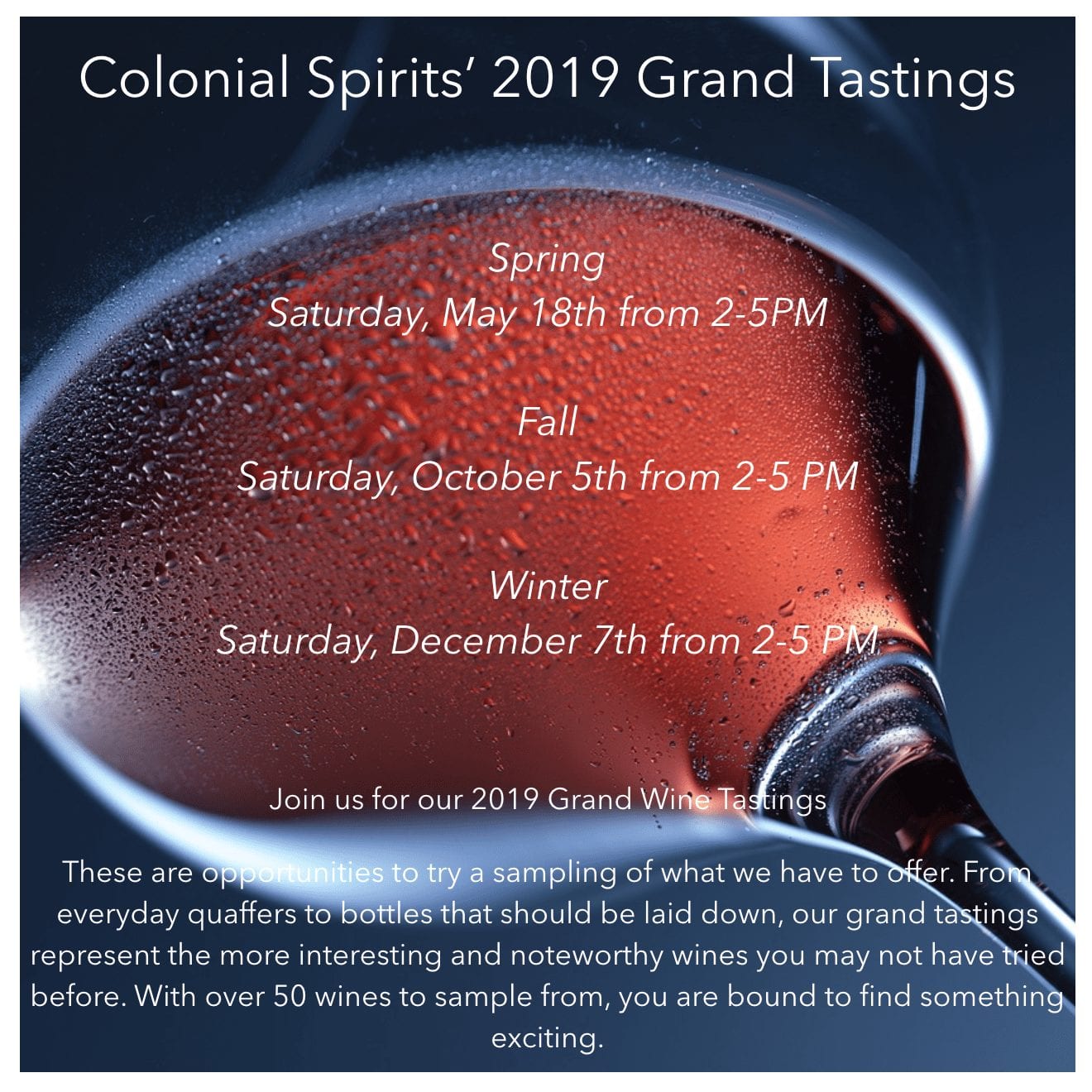 The first of our three largest wine-related events: 2019 Spring Grand Wine Tasting
Spring is in full force, rain and all, and summer vacation is around the corner. With so many new wines flooding in for the beginning of the vacation season, the task of finding a new summer favorite can be daunting. Which is why so many of us go back to familiar favorites. Trying to pick a wine based on descriptors, write-ups, and reviews can be overwhelming because who has ever tried limestone? Let us take the guesswork out of wine buying.
This Saturday, from 2-5 PM, we will be hosting our first of three grand tastings. The Spring Grand Tasting focuses on wines that are light, fun and made to quench your thirst on those hot summer days. Light reds, whites, and rosés (and a sparkler or two) will be on full display this afternoon for your sampling pleasure. With at least 50 bottles to pick from, there will be a wine for everyone.
From the exotic hills of Provence to the valleys of Marlborough (NZ) and onto the cool terrains of Austria.
There will be wines from across the globe that range from light and slightly effervescent to citrus, tangy, and mouthwatering. The goal is to not only display the multitude of wines we have to offer but also educate your palate on what is out there. Wine should not be a hard-boiled-egg (as tasty as that may be), it should fun and bring back happy memories. Even if that memory is as simple as having come across a particular wine at a local event. This tasting is to help you explore the wonderful world of wine.
The Lineup:
| | |
| --- | --- |
| Gary Parsons | Domaine Blondeau Sancerre Rose |
| | Bouchard Bourgogne Rouge Pinot Noir |
| | Marco Felluga "Mongris" Pinot Grigio |
| | Aia Vecchia "Langone" Rosso Toscana |
| | Chateau Routas Rosé Coteaux Varois en Provence |
| | Chateau Gassier "Espirit" Rose |
| | Aia Vecchia Vermentino Toscana |
| | |
| Michael Seidel | Starmont Chardonnay Carneros |
| | Notios by Gai'a White Peloponnisos |
| | Notios by Gai'a Red Peloponnisos |
| | Fritz Muller Perlwein Muller-Thurgau Rheinhessen |
| | Mas Ste Berthe Rosé Les Baux-de-Provence |
| | James Bryant Hill Estate Pinot Noir Central Coast |
| | |
| Mark Colantonio | Sonoma Cutrer Rosé of Pinot Noir RRV |
| | Clos Pegase Mitsuko Vyd Sauv Blanc Carneros |
| | Carlos Serres Rioja Reserva |
| | Donnafugata Anthilia Bianco Sicilia |
| | Maison Saleya Rosé Coteaux d'Aix en Provence |
| | |
| Dave Bender | Benjamin Leroux Auxey-Duresses |
| | Champagne Moutard Grande Cuvée Brut NV |
| | Gerard Boulay 'Sybylle' Sancerre Rosé |
| | Stafford Hill Pinot Noir Willamette Vly |
| | Messanges Rouge by Pallus Chinon |
| | La Val Albariño Rias Baixas |
| | |
| Tim Laskey | Casale del Giglio Chardonnay Lazio |
| | Stoneburn Pinot Noir Marlborough |
| | Without Papers White Blend |
| | Sansilvestro 'Primaio' Dolcetto d'Alba |
| | Pellehaut Blanc Harmonie de Gascogne |
| | Pellehaut Rosé Harmonie de Gascogne |
| | |
| Barbara Cloonan | SeaSun Chardonnay California |
| | Wither HIlls Pinot Noir Marlborough |
| | Batasiolo Moscato d'Asti |
| | Elk Cove Estate Pinot Noir Rosé Willamette Vly |
| | Carmen Gran Reserva Carmenere Apalta |
| | Fantini Cerasuolo d'Abruzzo |
| | MAN Free-run Chenin Blanc Coastal Region |
| | |
| Tony Branco | Andresen 10yr White Porto |
| | Duquesa de la Victoria Rioja Crianza |
| | Tombacco Biferno Rosso Riserva |
| | 47 Anno Domini Prosecco |
| | Monte Velho by Esporao Tinto Alentejo |
| | Cabriz Rosé Dão |
| | |
| Gary Routenberg | Ch du Seuil Graves Rouge |
| | Ch Patache d'Aux Cru Bourgeois Medoc Rouge |
| | Dampt Freres Chevalier d'Eon Bourgogne Tonnerre |
| | Font Sarade Plan de Dieu Cuvée Egoiste |
| | J. Mourat Collection Rosé Loire |
| | Ch de Costis Bordeaux Rouge |
| | |
| Dennis Kearney | Commanderie de Peyrassol Rosé Coes de Provence |
| | Hahn Estate Pinot Noir Santa Lucia Highlands |
| | Bailly-Lapierre St-Bris |
| | Huber Sparkling Rosé Austria |
| | Planeta Rosato Sicilia |
| | Ipsum Estate Verdejo Rueda |