Winemaker Tasting: Austrian and German Estates
March 8, 2019 @ 4:00 pm

-

7:00 pm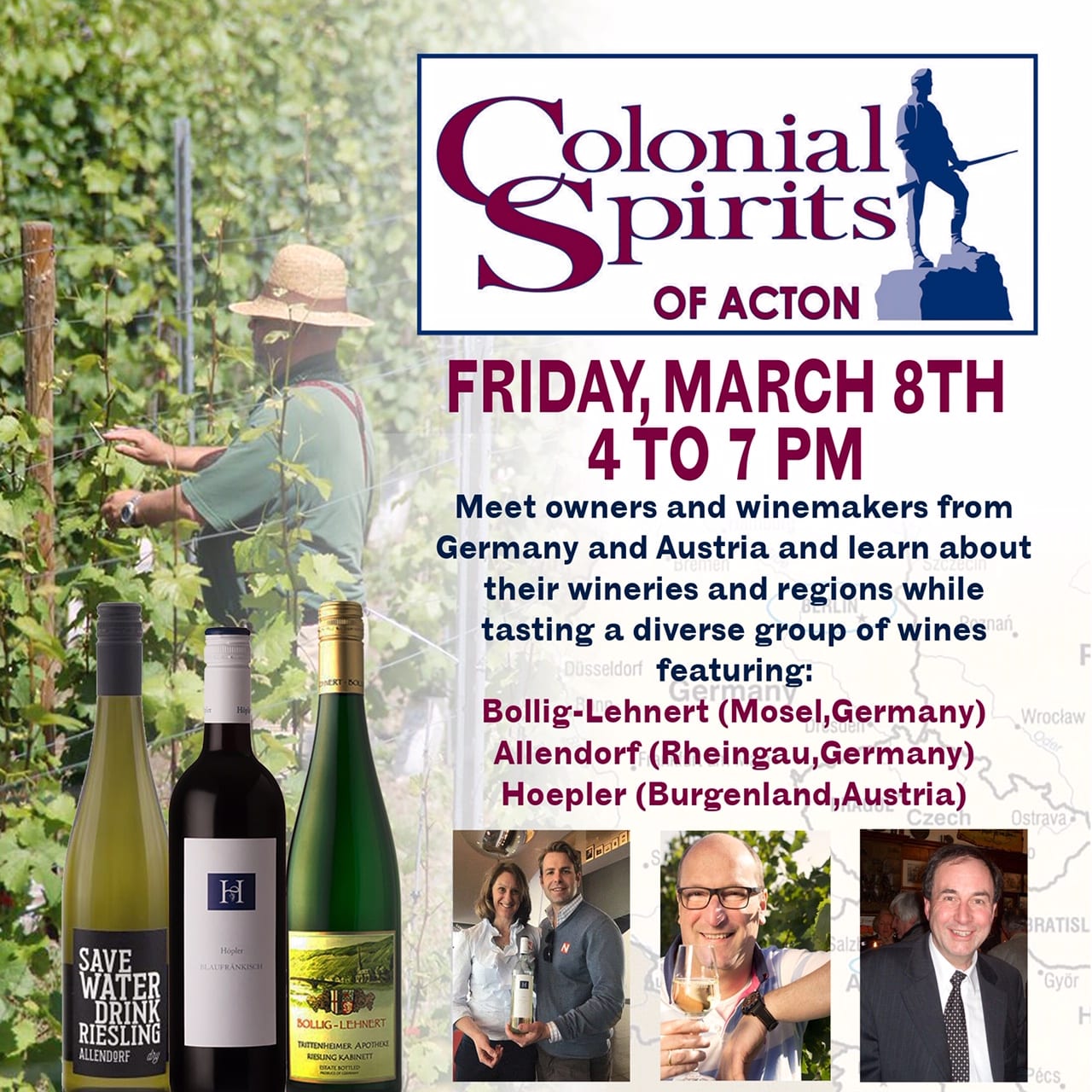 This winemaker tasting used to be called 'De Germans are Coming', but since we have expanded to Austria the name has changed.
In past owner and winemaker tasting of the German estates, we had hosted 3-4 wineries that focused on Riesling and its many variations. This time around, we have added Zweigelt, Pinot Noir, Gruner Veltliner, and Blaufrankisch to the lineup. With so many great wines to sample and so many great personalities to meet, this is sure to be one of the best of these tastings yet.
Here is the current lineup:
Fritz Allendorf-
Allendorf 'Save Water Drink Riesling' Dry Riesling QbA Rheingau 2017
Louise Hoepler-
Höpler Zweigelt Burgenland 2016
Höpler Blaufrankisch Burgenland 2016
Höpler Gruner Veltliner Guttenberg Burgenland 2016
Stefan Bollig-
Bollig-Lehnert Estate Trittenheimer Apotheke Riesling Kabinett Mosel 2015
Bollig-Lehnert Estate Trittenheimer Apotheke Riesling Spatlese Mosel 2015
Bollig-Lehnert Estate Piesporter Riesling Kabinett Mosel 2016
Derek-
Dr. Heyden Estate Oppenheimer Pinot Noir Rheinhessen 2016
C. von Nell-Breuning Kaseler Dominikanerberg Riesling Kabinett Mosel 2016
Paul Anheuser Schlossbockelheimer Riesling Kabinett Nahe 2016
This may just be the best showing of this event yet so don't miss out.