Alsace Weekend 08/08-08/09
August 8, 2015 @ 9:00 am

-

August 9, 2015 @ 6:00 pm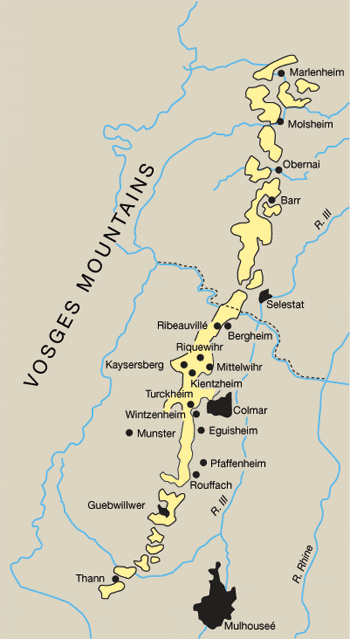 Imagine that you have been transported to a wine region in Northern Europe bordered by the Rhine River.  The towns and villages have names like Heiligenstein, Kirchheim, and Zellenberg, and Riesling is the dominant grape. Given the circumstances, you'd probably think that you were in Germany, but you would be wrong. The place is Alsace, and although it has been occupied by Germany at various times throughout history, the region, its spirit and wines are decidedly French.
However, unlike the other wine producing regions of the country, and most of Europe for that matter, the wines of Alsace (predominantly white except for some Pinot Noir) are named for the grape varieties from which they are made, i.e., Riesling, Pinot Gris, Pinot Blanc, Sylvaner, Muscat, and Gewurztraminer.
This Saturday and Sunday, every Alsatian wine in the store will be on sale at a 20% discount for six or more bottles. In addition, there will be a tasting of Rieslings and other white wines of the region from 1:00 – 4:00 pm on Sunday.
One last note, people who think that Rieslings are sweet have probably never had the Alsatian variety, which are dry. Even the region's late harvest and Sauterne styles have a steely backbone unique to Riesling that adds a distinctive complexity to the overall flavor profile. So if you've never tried Alsatian wines, or are a fan of what the region has to offer, stop by the store this weekend.