Colonial Spirits Oktoberfest 2017!
September 23, 2017 @ 1:00 pm

-

5:00 pm
Guten Tag!  Join us This Saturday, 9/23 from 1-5 p.m. for the Colonial Spirits Oktoberfest experience!
---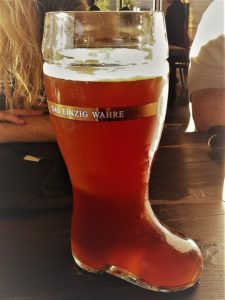 The days are quickly dwindling until we host our annual Oktoberfest here inside the walls of Colonial Spirits.  No, there will be no tents or week-long festivals as you traditionally see in Germany.  And, no, unfortunately we cannot actually pour boots of beer, though we'd love to (sorry!).  However, we will have a day of beer tasting with Colonial Spirits flare!
There will be several traditional Oktoberfests and Marzens to try, as well as our most popular American fall seasonal, the pumpkin ale, in abundance!  We will also be pouring tastes of fall seasonal beers that reach outside of both of these categories from some of the best breweries in America.  We will also be serving Bratwurst, Sauerkraut and pretzels!   We hope to see you Saturday!
Tschüss! (for now!)