A new twist on St Paddy's with Jay Needleman and Privateer Rum
March 17, 2016 @ 4:00 pm

-

6:00 pm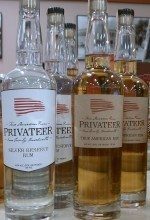 If you are thinking cocktails on St Patrick's Day you probably aren't thinking rum.  Perhaps you should be? Jay Needleman of Privateer Rum is ready to serve up good times with an interesting twist – rum cocktails (and not the frozen kind with little umbrellas).
Privateer's Silver Rum is an ideal cocktail base with no resemblance to the harsh, phenol flavor of many other rums.  It is smooth and mixable while showing the true potential of fine rum.
Their Amber rum bucks the trend of over-sweet, spiciness showing rich flavor and complexity similar to fine Bourbon Whiskey.  This rum is exceptionally smooth and round with waves of orange citrus, sandalwood, leather, cinnamon and spice, and a lingering and silky finish.
Best of all, it's local – Made in Ipswich, MA at a small, craft distillery.  Privateer is what rum should be!
Related Events