Single Barrel Bourbon 2016 – The Selection Process
March 5, 2016 @ 2:00 am

-

4:00 pm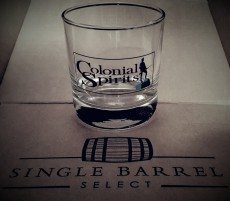 The first exclusive Colonial Spirits bourbon barrels of the year are queued up and I am pleased to be kicking things off with my two favorites of years past – Weller 107 and Journeyman.
Single barrel whiskey of any kind is special, as a unique expression of the whiskey developed from the isolated environment of only one barrel.  Certainly Weller 107 is a known quantity and Journeyman seems to be a more familiar bottle here so the chance to select our own barrels is an exciting challenge.  After all, our barrels should be better than what you can get on the shelf everyday!
I've requested and received samples from 3 different barrels at each of the above mentioned distilleries and now it's time to pick the best one.  The selection will take place on Saturday, March 5th at 2pm and we want you to decide with us.  The samples are pretty small so the opportunity to taste and vote is limited.
Related Events