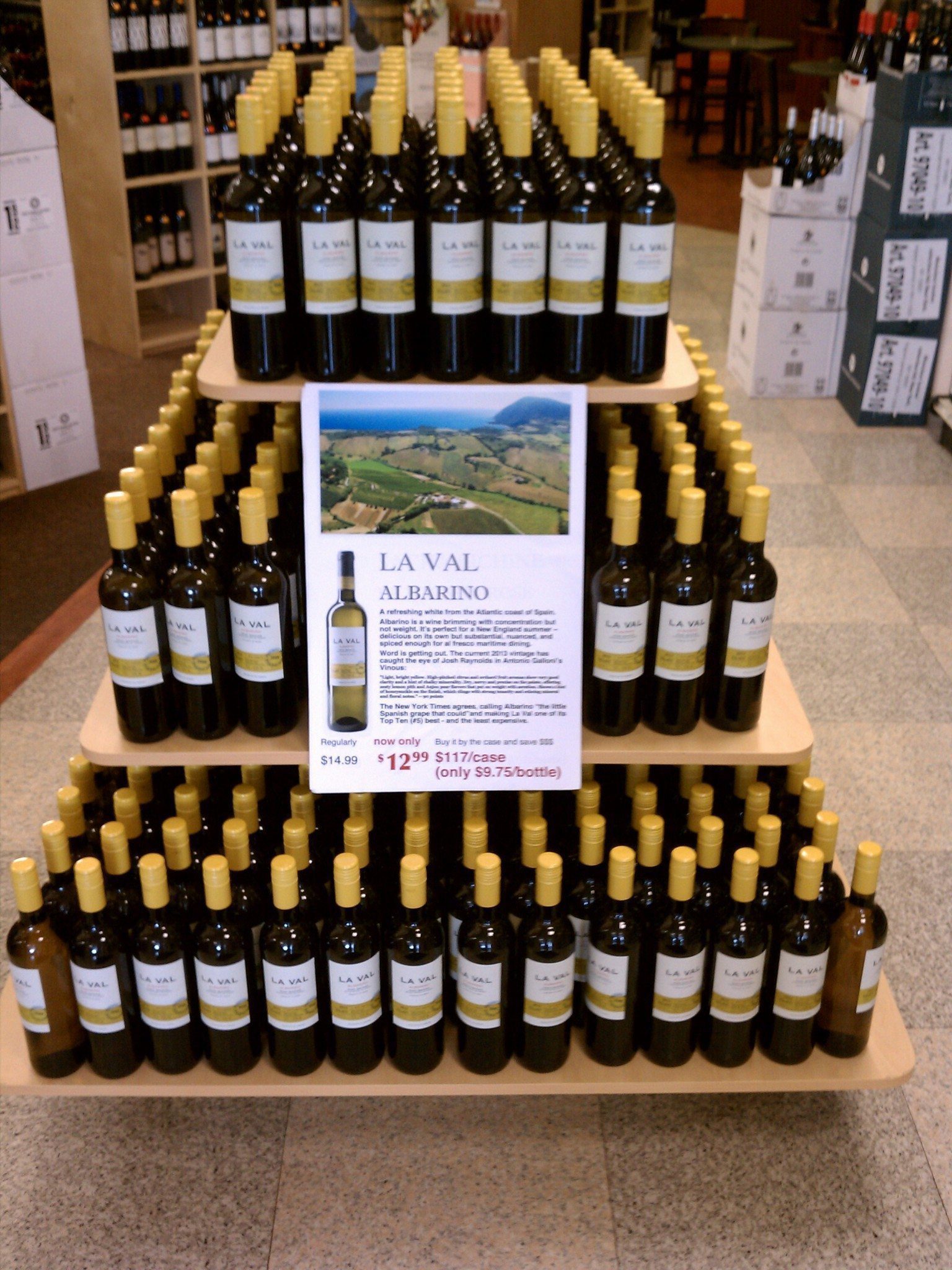 As many of you know, our 'Wine of the Month' display, just beyond the entrance to the store has earned a reputation for delivering great value.
We seek out wines that you may not have seen before, but offer exceptional quality.  Exploring wine should be fun and our wine of the month makes trying something new easy.
To sweeten the deal even further, we always offer these value driven wines at a special discount, and right now we've got… LA VAL ALBARINO, regularly $14.99, ON SALE FOR $12.99 PER BOTTLE AND $117 PER CASE ($9.75/BOTTLE)!

La Val Albarino – A Refreshing White Wine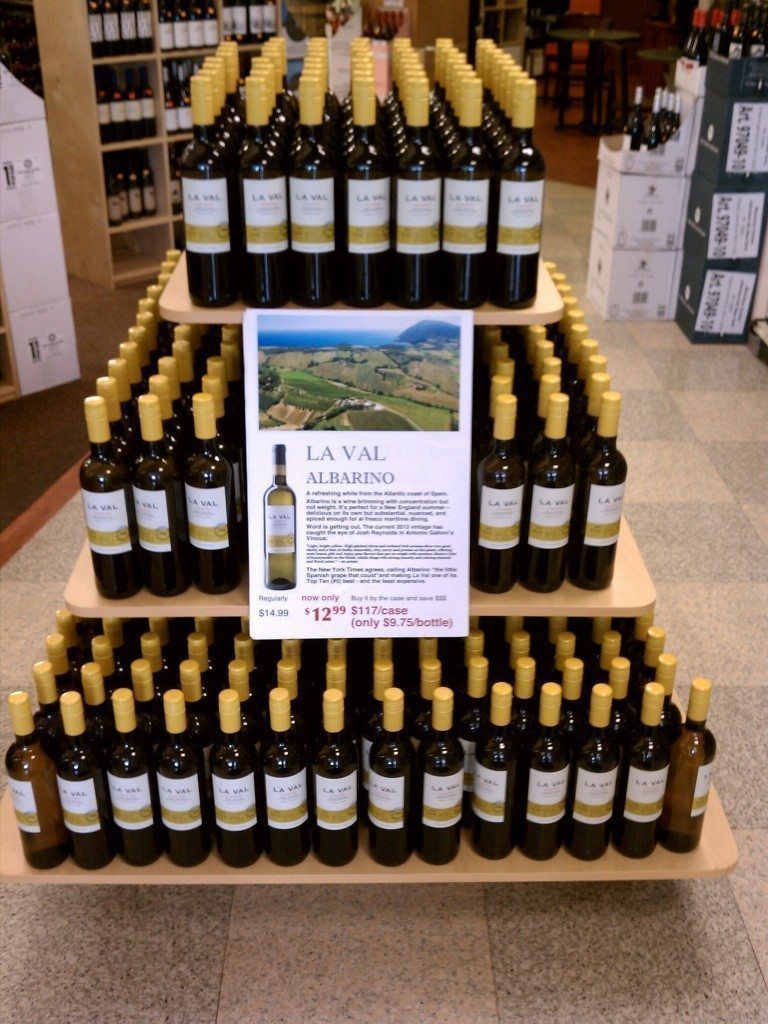 A refreshing white wine from the Atlantic coast of Spain, La Val Albarino is one of only a few estate bottled Albarinos.
It is a wine brimming with concentration but not weight. It's very dry in style, and offers sharp lemon notes with hints of minerality and nice salinity.
It's delicious as a refreshing beverage on its own. But its also substantial, nuanced, and spiced enough for al fresco maritime dining.
In brief, you can taste the influence of the Atlantic in La Val Albarino, and it's perfect for a New England summer!
Critical Acclaim for La Val Albarino
Critical Acclaim for La Val Albarino is spreading like a vine.
In Antonio Galloni's Vinous, Josh Reynolds gave the 2013 vintage 90 points and wrote:
"Light, bright yellow. High-pitched citrus and orchard fruit aromas show very good clarity and a hint of chalky minerality. Dry, nervy and precise on the palate, offering zesty lemon pith and Anjou pear flavors that put on weight with aeration. Shows a hint of honeysuckle on the finish, which clings with strong tenacity and echoing mineral and floral notes."
Stephen Tanzer gave it 90 points in International Wine Celler, Guia Peñin gave it 91 points, and Guia Proensa gave it 92.
Even the New York Times has sung the praises of Albarino, calling it "the little Spanish grape that could," and placing La Val as #5 on its Top Ten list of Albarinos.
Colonial Spirits Always on the Lookout for the best value in Wine
At Colonial Spirits of Acton, we're always on the lookout for new wines that bring great value to our customers. Contrary to popular belief, you don't always need to spend a lot of money to drink high quality wine… but you do need to be selective.
Any wine that appears in our special wine display at the front of our store has been hand selected by Colonial Spirits for its quality and its price, that is to say, its value… and then we discount it even further.
So, visit Colonial Spirits today to pick up our latest offering, La Val Albarino, today. And remember, Colonial Spirits is your source for buying wine online in Massachusetts and shipping wine to Massachusetts too.