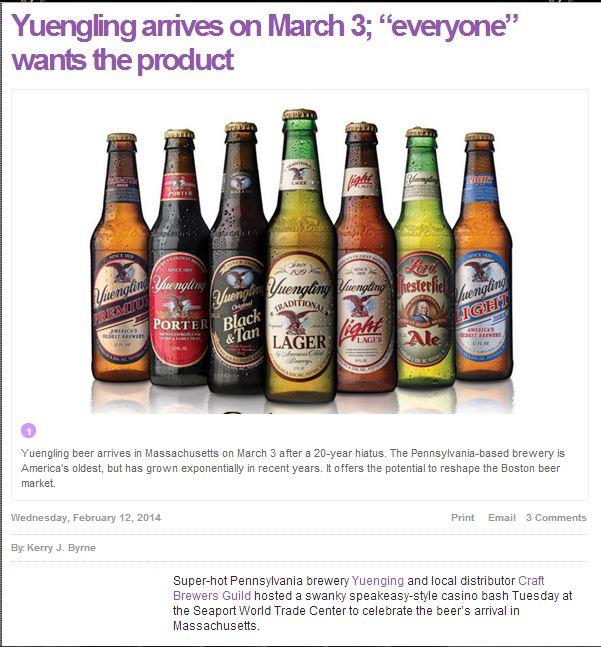 What Bostonian doesn't love a nice, cold brew, especially if it's from one of the most sought-after breweries in America? Well if you're one of the many who do, hang on to your hats and get your local Boston beer delivery service from Colonial Spirits Delivers on speed dial, because according to the Boston Herald:
"Super-hot Pennsylvania brewery Yuenging and local distributor Craft Brewers Guild hosted a swanky speakeasy-style casino bash Tuesday at the Seaport World Trade Center to celebrate the beer's arrival in Massachusetts. […]

Long-awaited Yuengling, last sold here 20 years ago, returns to Massachusetts pubs and packies on March 3. It won't be hard to find.

"Everyone in Boston is looking for the product," Yuengling chief operating officer David Casinelli told the Boston Herald before the party. Three Yuengling beers arrive in the first wave: Yuengling Light, Black & Tan, and flagship Traditional Lager. Others may follow."
Yuengling Beer-Tasting Party Time!
So, what are you waiting for? Call up the gang and host your own Yuengling beer-tasting party!
In preparation for your Yuengling party, you should first consider the number of beer-drinking guests you will be entertaining. You'll want to send your invitations far enough in advance so that you'll know how many guests to anticipate, and thus how much food to prepare and how many packs or cases of beer to order. After all, nothing is worse than a beer-tasting party without enough beer!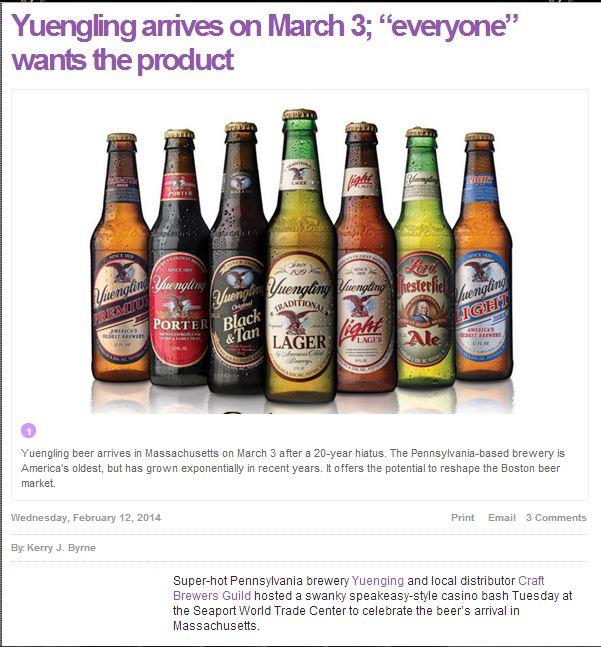 You don't have to cook up anything too fancy for your beer-tasting party – a few appetizers, some cheeses, chips, and nuts should suffice. Remember that your selection of Yuengling beers should be the highlight of the event! While you can always turn it into a barbecue and serve up a full meal along with the beer, this can be pretty time-consuming to prepare… and you don't want the food to distract from the beer!
Also, you wouldn't want to end up sullying your tasting event by serving the beer improperly, would you? Note that the right temperature for serving beer is from 45 to 60 degrees Fahrenheit. While you're at it, you might also consider serving your beer in the appropriate beer glasses… the better to enjoy your Yuengling.
The Beer: Yuengling
Of course, the highlight of any beer-tasting party is… the beer! This is why it's called a beer-tasting party after all! For your celebratory Massachusetts Yuengling beer-tasting party, you'll be offering three Yuengling beers to taste:
1) Yuengling Black & Tan combines Yuengling's popular Dark Brewed Porter with their Premium Beer. It's rich and dark in color, has a well-balanced flavor with hints of caramel and coffee from the dark roasted malt, and a finish that's smooth and satisfying.
2) Yuenling Light Lager is an exceptional brew that appeals to beer-drinkers who don't want to sacrifice character for a low calorie light beer. It's masterfully developed to maintain a full flavor profile akin to Yuengling's flagship Lager, but with only 99 calories.
3) Yuengling Lager is an iconic American Lager. It's famous for its rich amber color and medium-bodied flavor. With roasted caramel malt for a subtle sweetness and a combination of cluster and cascade hops, this true original delivers a well-balanced taste with a distinct character.
Pretty soon, additional varieties of Yuengling beer will likely hit the shelves of Massachusetts liquor stores. But for now, you can savor the three available choices with a beer delivery to Massachusetts from Colonial Spirits Delivers. Keep your beer-tasting party tasty with nothing but America's favorite full-flavored lager, Yuengling!
(Source: Yuengling arrives on March 3; "everyone" wants the product, Boston Herald, February 12, 2014)