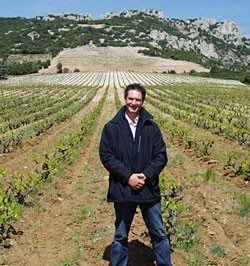 2014 Tire Bouchon by Domaine D'Ouréa Vin de France
We always harp on about buying the most affordable wines from the best producers. It makes a lot of sense. The grapes often come from the exact same vineyards as the top cuvées, and are farmed, harvested, and vinified using the same methods. Usually, the only differences are in the ages of the vines, the yields, and the aging regime. Granted, these are important contrasts, but there is no question you can get the gist of an estate's style from the entry level.
This time, we have a bonus. Not only do we have the entry level from a top grower, but we think we are far enough out in front of this one that a year or two from now, this wine will seem like an absolute steal.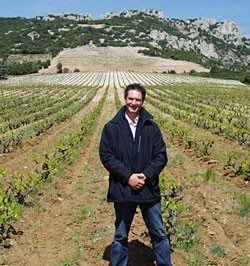 Domaine D'Ouréa – Greek God of Mountains
The key today is Adrien Roustan, the winemaker at Domaine d'Ouréa. Named after the Greek God of Mountains, Domaine d'Ouréa was created in 2010, when Adrien inherited 12 hectares of prized vineyards from his grandfather Raymond Bertrand, located in the cru appellations of Gigondas and Vacqueyras. The Gigondas parcel in the lieu-dit of Grand Montmirail, between 400 and 520 meters, is among the highest in the appellation and inspired the name for the domain. Roustan makes four wines: Gigondas, Vacqueyras, Cotes du Rhone, and a Vin de France called Tire Bouchon. Adrien's winemaking style informs all four wines, and here's why this is important.
Adrien's parents were not winemakers, and his grandfather only grew and sold grapes, and so Adrien learned what he could on his own before he went to winemaking college in Beaune. He spent 3 years in Burgundy, the culminating experience being an apprenticeship at Domaine Romanée Conti in 2007. He would go on to work a vintage at Turley Cellars in California a year prior to returning home. His first vintage was 2010. He has worked at two of the world's greatest wineries and has taken their vision of power, intensity, balance, and elegance and adapted it to his own soil.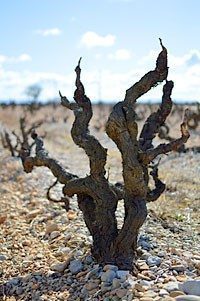 Tire Bouchon – "Corkscrew"
Domaine d'Ouréa is strictly organic with biodynamic practices. For the Tire Bouchon (translates as corkscrew – have one ready for the second bottle), Roustan not only uses the classic Gigondas grapes of Grenache, Syrah, and Carignan, but also the heirloom varietals of Aramon and Oeillades. He could have easily ignored these unique grapes for the more viable traditional varietals, but it is part maintaining tradition in the frame of very 21st-century learning, and part paying homage to his grandfather. All of Roustan's wines from Tire Bouchon up to the Gigondas are made using whole clusters and are aged in traditional enamel lined concrete tanks. He uses a partial carbonic maceration (learned in Burgundy), doesn't fine, and uses minimal sulfur. In the end, the house style ends up as darkly fruited wines, with expressive bouquets, and superbly integrated tannins.
However, the word is getting out.  Remember, the first releases were less than five years ago. Josh Raynolds at Vinous is agog: "deeply pitched wines… seductively perfumed and densely packed yet lively… seamless plush fruit with fine grained tannins and a lengthy finish."
A Royal Wine
Perhaps even more important than the critics discovering the wine is who is lining up to buy them. Last year, Adrien agreed to sell some wine to London importers Berry Brothers & Rudd, the purveyors to Buckingham Palace and the holders of a Royal Warrant. The royals can have any wine on earth they want, and they chose d'Ouréa.
The good news is you can try the entry level Tire Bouchon to find out if you like the house style which is not for everybody (it is definitely masculine and brooding, but refined and appealing), and move up the ladder to the top cuvées which are not that expensive. Yet. These wines might be out of sight if demand keeps increasing.
Hurry up before Queen Elizabeth drinks it all.
– Vineyard Road
---
2014 Tire Bouchon by Domaine D'Ouréa Deal…
Retail Price: $14.99 per bottle

Limited Time Bottle Price: $11.99

Case Price: $118.68 (9.89/bottle)
---