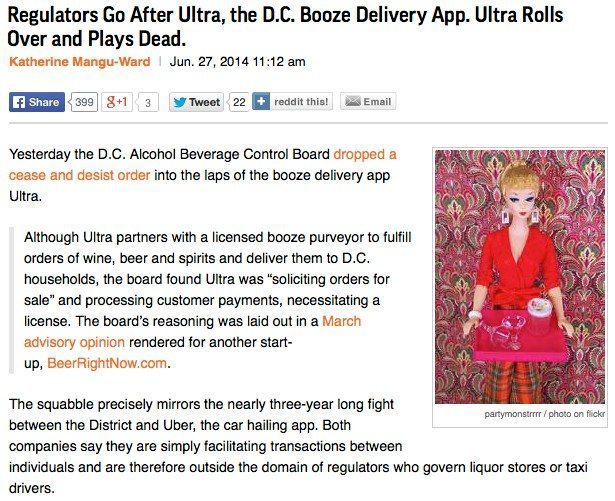 As liquor delivery apps face increasing regulatory hurdles, Colonial Spirits Delivers continues to offer reliable liquor delivery to Boston and beyond. The latest liquor delivery app to have a run-in with a local alcohol regulatory agency is Ultra, a national outfit with a branch in Washington D.C. Just over two weeks ago, the D.C. Alcohol Beverage Control Board suddenly handed Ultra a "cease and desist" order.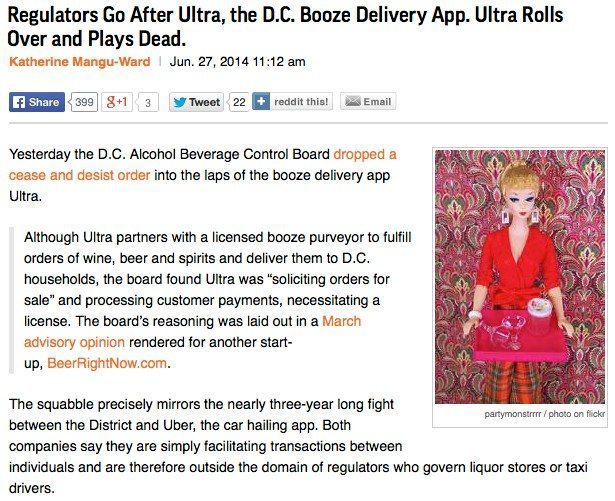 In their coverage of the matter, Reason.com wrote:
"Although Ultra partners with a licensed booze purveyor to fulfill orders of wine, beer and spirits and deliver them to D.C households, the board found Ultra was 'soliciting orders for sale' and processing customer payments, necessitating a license. The board's reasoning was laid out in a March advisory opinion rendered for another start-up, BeerRightNow.com."
Whether it's Ultra or BeerRightNow.com in Washington D.C., or any number of the other liquor delivery apps that are popping up in cities around the country, they all, in some way, shape, or form, seem to be finding out the hard way that continuing to operate their services without licenses is going to eventually draw unwanted attention from local alcohol regulatory agencies.
Unlike Uber, Ultra Plans to Play Softball
Many across the country have heard of the car-hailing app Uber, which has made headlines for its defiance in the face of regulatory action, recently leading to a D.C. taxi strike in protest against the app. Uber, like Ultra, operates in Washington D.C. However, unlike Uber, which has thus far played hardball with D.C. regulators and has given no indication of reversing course (the taxi strike resulted in more business for Uber than ever), Ultra has given every indication that they intend to do whatever is needed to work with D.C. regulators to find a resolution.
Regarding the "cease and desist" order he recently received from the D.C. Alcohol Beverage Control Board, Ultra owner Aniket Shah said:
"We are not defiant. We are hoping to comply completely with all regulations, and we take these regulations very seriously. We want good relations with [the Alcoholic Beverage Regulation Administration] and the partner stores. We don't want to risk the licenses of our partner stores, not only in D.C. but through the U.S."
Shah also made clear that he would be meeting with the Board to resolve the matter, and that Ultra would comply with the "cease and desist" order and stop taking orders and making deliveries in D.C. until everything is resolved.
CSD has the Upper Hand on Apps like Ultra
Colonial Spirits Delivers has the upper hand on liquor delivery apps like Ultra because we hold our own liquor license from the state of Massachusetts. As a result, we don't encounter any of the regulatory issues that any liquor delivery service without a license will inevitably encounter. While some may take the risk and thumb their noses at regulators, and others may shut down their service until they can come to a resolution with regulators, we at CSD will continue to take orders and make deliveries with our liquor license proudly on display for all (including the regulators) to see!
The ability to reliably make liquor deliveries that comes with having a liquor license is just one of the many things that makes Colonial Spirits Delivers the best place to buy liquor online in Massachusetts! Place an order today… and have it delivered in days. You can always count on reliable liquor delivery when you're "on the road with CSD!"
(Source: Regulators Go After Ultra, the D.C. Booze Delivery App. Ultra Rolls Over and Plays Dead., Reason.com, June 27, 2014)