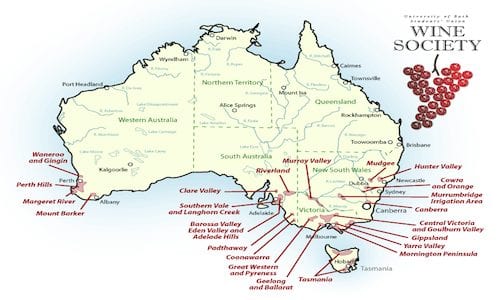 Around this time last year, I came upon a wine that blew me away, the wine was Brothers in Arms Shiraz Langhorne Creek 2001.  I wrote an email about the Brothers in Arms and received fantastic reviews from everyone that tried it.  Unfortunately, these sort of deals only happen once a year.  This year, I was once again fortunate enough to get the latest release of library wines, and again, Australia hit the mark with not one, but two fantastic bottlings.

The first is Kay's Amery Vineyards Shiraz-Mourvedre-Grenache McLaren Vale 2000.  This wine is red-orange in the glass (sign of a well aged wine,) and opens with a bouquet of toffee, roasted malts, sun dried fruits, hints of cinnamon and nutmeg, all of which are encompassed by the lightest hint of eucalyptus.  The wine drinks as it smells with the added bonus of caramelized fruits and roasted nuts.  This is an exceptional example of what a well aged wine should taste like.  
"On the light side, with pretty blueberry and plum aromas and flavors shaded delicately with a touch of vanilla cream. 126 cases imported. 87 points." -Wine Spectator.
Regular Retail Price: $39.99
Sale Price: $19.98 (only 18 12-pack cases available)

The second wine is Dog Ridge Vineyard "DV7" Shiraz McLaren Vale 2001.  The Dog Ridge DV7, unlike the Kay's, is 100% Shiraz from 60+ year old vines.  This wine, even to this day, is dark , rich and robust.  It shows its age a bit, both in its color and taste, but had I had it blind I would have never guessed it was 12 years old.  Ponder that for a minute or two; 12 years old.  With more red/purple hues than orange hues showing in the glass, this wines still has some life left in it.  With plenty of ripe berries on the nose, alongside caramelized nuts (typical of most aged wines) this is a perfect example of Australian craftsmanship.  
"Ripe and round, generous with its plum, cherry, espresso and exotic spice flavors, lingering impressively on the fine-grained finish. 320 cases imported.  90 points." -Wine Spectator.
Regular Retail Price: $39.99
Sale Price: $19.98 (only 9 12-pack cases available)
For those that were fortunate enough to enjoy the Brothers in Arms, both of these wines are in that same quality category.  For those that missed out, this is an opportunity to take full advantage of.  These wines are prime examples of what aged wine should taste like, additionally, they are both ready to go (i.e. no further cellaring required).  How many time have you heard or read "this wine will be showing well in…?"  This is not the case for these wine, so the satisfaction of drinking an aged wine is immediate.  
Hopefully you will enjoy drinking these wines as much as I did trying to find them.  Let me know by leaving a comment!