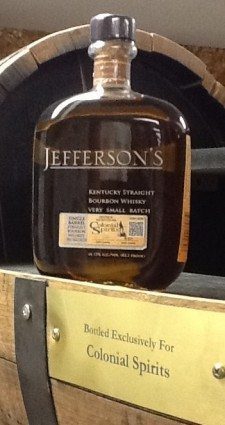 Jefferson's small batch bourbon is part of a line up of exceptional bourbons including a reserve batch at over $60 and a 21yr at well over $100.  So, getting a true small batch product for $34.99 is a real value.  Jefferson's doesn't disappoint, so when we were offered the chance to taste through several single barrels of Jefferson's in order to choose the one that we would have bottled for Colonial Spirits we were thrilled.
Each individual barrel is a unique expression of the whiskey and the master blender will 'marry' several barrels in order to create the consistent flavor customers rely on from a brand.  The samples from the barrels brought to us were indeed similar but notably different in many interesting ways.  It is always a tough choice.
I am Tim, the spirits buyer for Colonial Spirits and a self-proclaimed whiskey enthusiast.  Nic Haegeli is the wine buyer for Colonial Spirits and is an accredited expert in his field.  The two of us had a great time working our way through the samples and selecting the barrel that we found to be the most excellent and most drinkable.
We tasted various degrees of spicy and sweet and the apparent presence of alcohol was wide ranging.  Where we landed was with a very well balanced whiskey.  Interestingly, the one that we chose came across quite sweet on the nose and scored lower on the first round of tasting than in subsequent rounds.  As this whiskey opened up its balance and nutty character left it outstanding among the group.
We hope you are curious enough to find out for yourself.  The barrel was bottled entirely for Colonial Spirits of Acton and labeled as such.  While supplies of this single barrel offering last there is a special price of $29.99.  Enjoy!