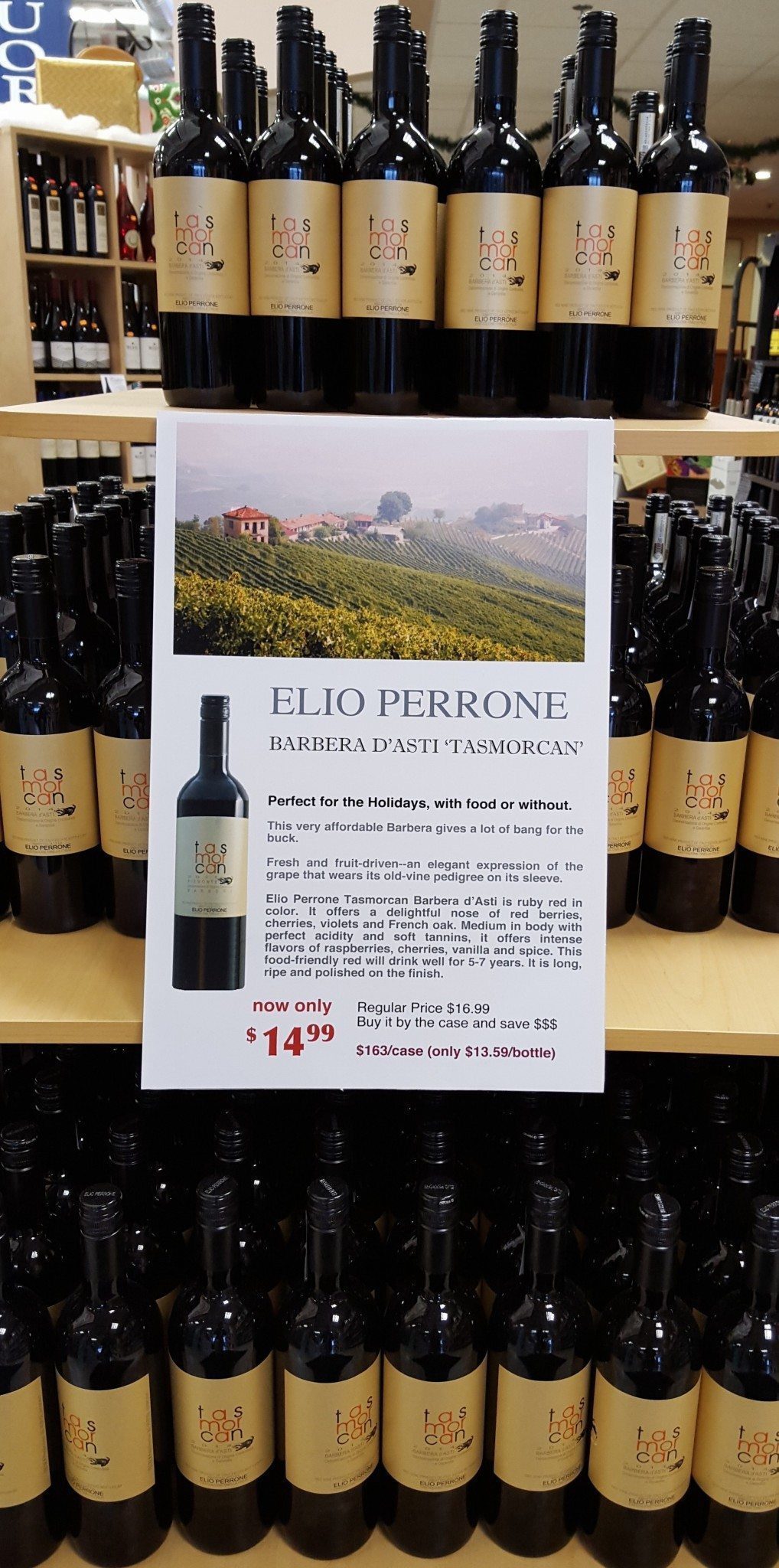 The holiday season is upon us, and at Colonial Spirits of Acton we have been thinking about the perfect red wine for the season's festivities. Well, we've figured it out, and you can find it right now at our "Wine of the Month" display!
Located just beyond the entrance to the store, our "Wine of the Month" display is an adventurous place, where we always feature a wine that is likely new to you, and that offers exceptional quality at a great price, which we then discount even further!
The wine that we have for you this holiday season is truly the perfect red wine for the season (and beyond!)… ELIO PERRONE's "TASMORCAN," REGULARLY $16.99, ON SALE FOR $14.99 PER BOTTLE AND $163 PER CASE ($13.59/BOTTLE)!
Elio Perrone Tasmorcan – Perfect for the Holidays
Elio Perrone Tasmorcan Barbera d'Asti red wine is perfect for the holidays, with food or without.
Medium in body with perfect acidity and soft tannins, this Barbera is ruby red in color and offers a delightful nose of red berries, cherries, violets and French oak, and intense flavors of raspberries, cherries, vanilla and spice.
Fresh and fruit-driven, it's an excellent expression of the grape that wears its old-vine pedigree on its sleeve. Long, ripe and polished on the finish, it's a food-friendly red wine that will drink well for 5-7 years.
In short, the Elio Perrone Tasmorcan is a very affordable Barbera that provides a lot of bang for the buck.
A Brief History of Elio Perrone's "Tasmorcan"
When he purchased the esteemed Mongovone vineyard in Asti in 1999, Stafano Perrone took on a new challenge with the Barbera grape.
In 2001, he replanted half of Mongovone and now uses the young vines for Tasmorcan, an intentionally beguiling red that captures the ethereal freshness for which the Asti region is famous.
In Piemontese, "Tasmorcan" means badger, a name chosen by Perrone due to the efforts required to fend off the little furry beasts who had a taste for the freshly-planted Barbera vines.
100% Barbera, the Elio Perrone Tasmorcan is aged for 6-10 months in large oak barrels before it is bottled for your enjoyment!
Colonial Spirits Still Always on the Lookout for High Value Wine
We've said it before, but it's worth repeating… at Colonial Spirits of Acton, we're always on the lookout for wine of the highest value. Contrary to popular belief, you don't need to spend a lot of dough to drink high quality wine… but you do need to be selective.
Any wine that appears in our special wine display at the front of our store has been hand selected by Colonial Spirits for its quality and its price, that is to say, its value… and then we discount it even further.
So, come on down to Colonial Spirits today to pick up a discounted bottle or case of the high value Elio Perrone Tasmorcan today.  And remember, Colonial Spirits is your source for ordering wine online in Massachusetts and shipping wine to Massachusetts too.