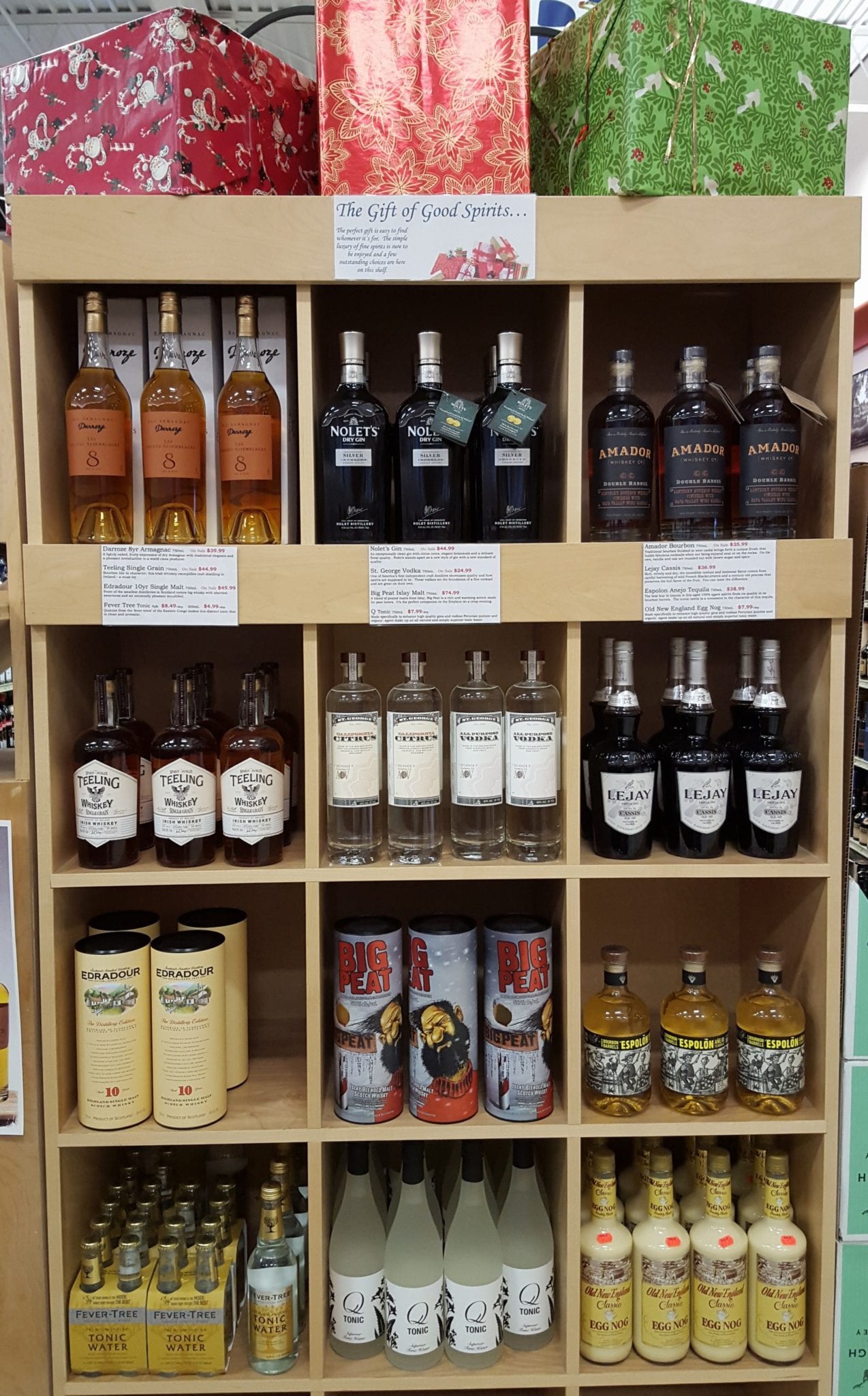 There is no time of the year quite like the holidays. It's a time of joy, merriment & celebration. It's a time when we prioritize friends and family, and give thanks for and focus on what is really important to us in our lives. As the song goes, "It's the most wonderful time of the year!"
Unfortunately, with all the holiday excitement, also comes holiday stress. Gift-giving can be a particularly stressful part of the holidays.
So, at Colonial Spirits of Acton we put on our Santa hats,  and came up with something that we hope will stoke your holiday spirit and get it burning hotter than an ol' Yule log… TWELVE SELECT SPIRITS, TO PUT YOU AND YOURS IN THE HOLIDAY SPIRIT, ON SALE NOW AT COLONIAL SPIRITS!
The Gift of Good Spirits
No matter the recipient, and no matter your budget, the gift of good spirits is easy to find whomever it is for… and, whomever it is for, it's sure to put them in the holiday spirit!
So, in that spirit, and with the holiday spirit, we went to work…
First, for your enjoyment, we assembled a collection of twelve hand-selected spirits. Then, for your convenience, we provided these select twelve with a special holiday display. Finally, for your wallet, we put most of these twelve spirits on sale.
The Twelve On the Shelf
So, here are they are, twelve perfect holiday gifts looking for the perfect recipients…
Darroze 8yr Armagnac  – 750mL @ $39.99 – A lightly oaked, fruity expression of dry Armagnac with traditional elegance and a pleasant introduction to a world class producer.
Teeling Single Grain – 750mL @ $44.99 – Bourbon like in character, this Irish whiskey exemplifies craft distilling in Ireland – a must try.
Edradour 10yr Single Malt – 750mL @ $49.99 – From of the smallest distilleries in Scotland comes big whisky with sherried sweetness and an unusually pleasant mouthfeel.
Fever Tree Tonic – 4pk @ $8.49+dep & 500mL @ $4.99+dep – Quinine from the 'fever trees' of the Eastern Congo makes this distinct tonic that is clean and aromatic.
Nolet's Gin – 750mL @ $44.99 – An exceptionally clean gin with citrus notes, elegant botanicals and a delicate floral quality.  Nolet's stands apart as a new style of gin with a new standard of quality.
St. George Vodka – 750mL @ $24.99 – One of America's first independent craft distillers showcases quality and how spirits are supposed to be.  These vodkas set the foundation of a fine cocktail and are great on their own.
Big Peat Islay Malt – 750mL @ $74.99 – A blend of peated malts from Islay, Big Peat is a rich and warming scotch made for peat lovers.  It's the perfect companion to the fireplace on a crisp evening.
Q Tonic – 750mL @ $7.99+dep – Made specifically to enhance high quality gins and vodkas. Peruvian quinine and organic agave make up an all natural and simply superior tonic water.
Amador Bourbon – 750mL @ $35.99 – Traditional bourbon finished in wine casks brings forth a unique finish that builds fabulous cocktails when not being enjoyed neat or on the rocks. On its own, vanilla and oak are rounded out with brown sugar and spice.
Lejay Cassis – 750mL @ $36.99 – Rich, velvety and dry, the incredible texture and immense flavor comes from careful harvesting of wild French Blackcurrants and a century old process that preserves the full flavor of the fruit.  You can taste the difference.
Espolon Anejo Tequila – 750mL @ $38.99 – The best buy in tequila. This aged 100% agave spirits finds its quality in ex-bourbon barrels. The iconic bottle is a testament to the character of this tequila.
Old New England Egg Nog – 750mL @ $7.99+dep – Crafted using the freshest dairy base prepared by the finest local dairy farms, Old New England Egg Nog is made with Imported Brandy, smooth Blended Whiskey, Imported Rum, and Kentucky Bourbon.
We're Here to Help You Bring the Holiday Cheer
Fine spirits offer the opportunity to give a luxurious gift at a palpable price… and the simple luxury of fine spirits is sure to be enjoyed.
We have selected a set of twelve outstanding choices for you this holiday season. It is our sincere hope that this collection makes your holiday season that much less stressful, and that much more spirited!
However, if your friends and loved-ones are more beer or wine oriented, we're here to help you find the perfect gift for them too! We have plenty of beer and wine that make for great holiday gifts as well, and it will truly brighten our holiday spirits to help make this the "hap-happiest" time of the year.
So, come on down to our store on Route 2A in Acton, check out "The Twelve on the Shelf," and feel free to peruse the rest of our beer, wine & liquor offerings as well. And, don't forget, Colonial Spirits of Acton offers you not only the best place to buy liquor in-store in Massachusetts, but also the best place to buy liquor online in Massachusetts and ship alcohol to Massachusetts!