Wine Dinner at The Red Raven with Lee and Ken
February 28, 2018 @ 6:30 pm

-

10:00 pm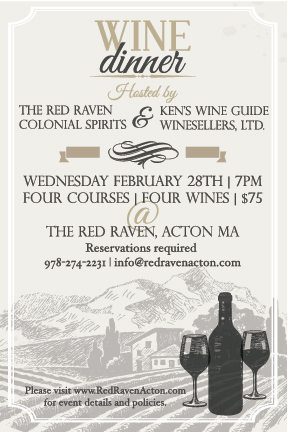 We along with Ken and Lee will be hosting a wine dinner at The Red Raven.
Last year's wine dinner at the Red Raven was so successful that we will be going back. This time, it will be Lee that will be joining us in place of Peter Merriam.
Lee is the New England Sales Director for Wineseller LTD, a wine importer that focuses on small boutique and family-owned wineries that produce high-quality wines. The wineries reign from all over the globe and the overall wine portfolio is just as unique. Winesellers has the go-to favorite varietals like Chardonnay, Cabernet Sauvignon, and Merlot but they also have Torrontes, Riesling (in all its forms), and many blends. The focus for the dinner will be mostly on the wines from Zuccardi with the one exception being a Riesling from Germany.
Here's the wine lineup with reviews and information:
2016 Zuccardi Serie A Torrontes
2014 Zuccardi "Tito"
2013 Zuccardi "Jose Zuccardi"
2015 Schneider Niersteiner Hipping Riesling Spatlese
Ken is the founder and main wine reviewer for Ken's Wine Guide, a local wine reviewing company that helps choosing wines a breeze. In addition to being a wine reviewer, Ken has also been a long time supporter of ours.  Ken's knows a good wine when he tries one which is why you should check out his site.
The Red Raven is located in the Nagog Plaza in Acton, Ma. A gastropub, Red Raven's menu is focused on local and fresh. The food always over delivers and the atmosphere is casual which allows for some great times.
So join us for a night of great food and wines.
To RSVP either call the Red Raven at 978.274.2231 or email them at info@redravenacton.com
Missed out on this dinner and would like to try to make another? Click here to check out the other dinners that are planned for 2018.