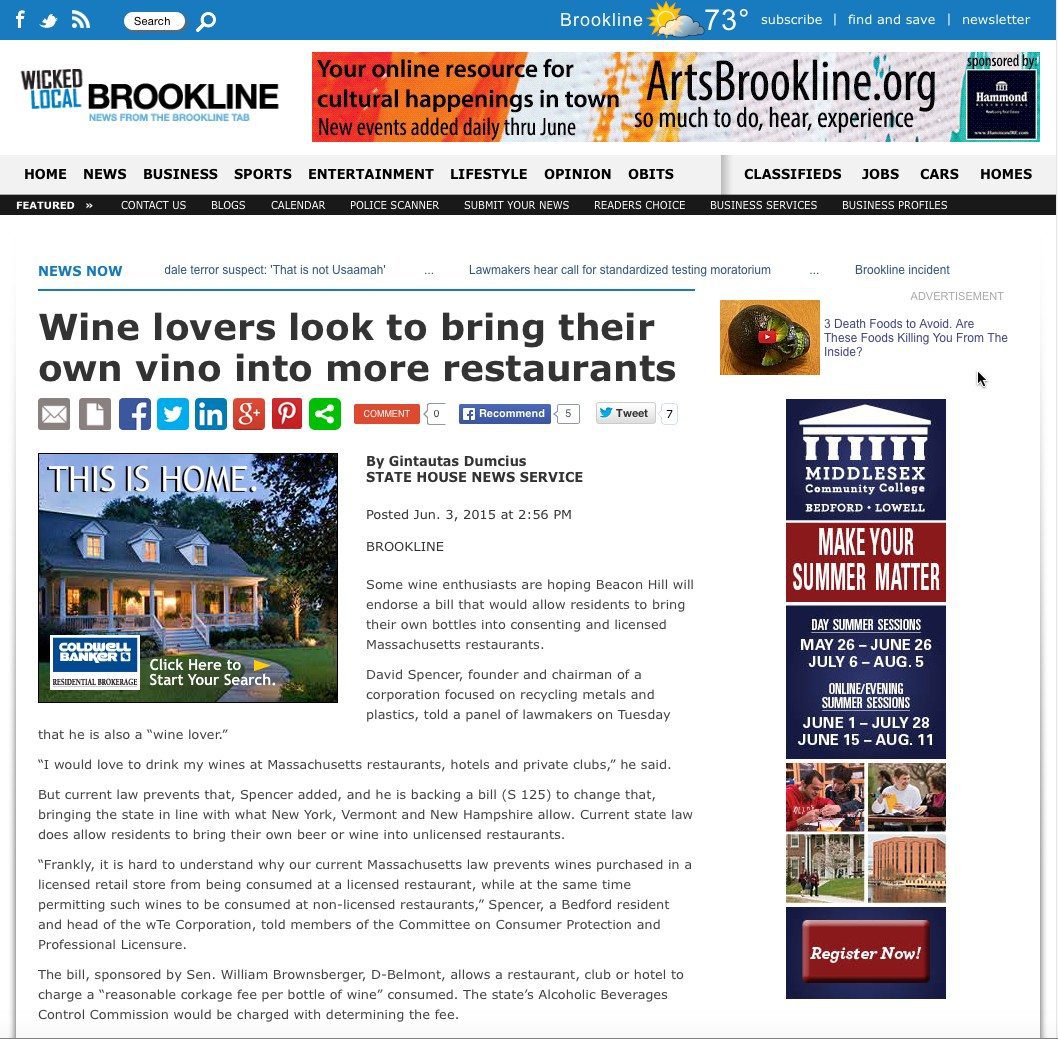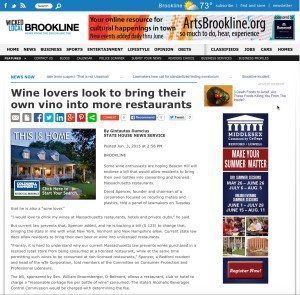 Current Massachusetts law allows patrons to bring their own wine into restaurants and clubs that do not have a liquor license, but prevents patrons from bringing their own wine into restaurants and clubs that do have a liquor license.
Some Massachusetts residents and politicians are looking to change that, and they may be close to getting their way… IF PASSED, MASSACHUSETTS BILL S 125 WOULD ALLOW CUSTOMERS TO BRING THEIR OWN WINE INTO LICENSED AND CONSENTING RESTAURANTS.
Massachusetts Residents Want to Change BYOB Law
Bill S 125 is sponsored by Senator William Brownsberger, a Democrat from Belmont. It allows a restaurant, club or hotel to charge a "reasonable corkage fee per bottle of wine" consumed. The task of determining the fee would fall to Massachusetts' Alcoholic Beverages Control Commission.
Among the Massachusetts residents supporting S 125 is Bedford local and wine enthusiast David Spencer. "Frankly, it is hard to understand why our current Massachusetts law prevents wines purchased in a licensed retail store from being consumed at a licensed restaurant, while at the same time permitting such wine to be consumed at non-licensed restaurants," said Spencer in recent testimony before the Committee on Consumer Protection and Professional Licensure.
Spencer is the founder and chairman of wTe Corporation, a metals and plastics recycling company, and also the chair of the Wine Committee at the St. Botolph Club. "We're not experts in tax law, okay? The point is the restaurant should receive some overhead mark-up to offset what the loss would be compared to selling the wine," said Spencer in his testimony. "I would love to drink my wines at Massachusetts restaurants, hotels and private clubs."
Fredrick Ek, another Massachusetts resident and Cambridge local, who retired from the wine business in 2010, argued that bill S 125 would lead to consumers dining out more often. "People will not only purchase wines from retailers, but will also be able to celebrate special events, such as anniversaries and the like, bringing wines from their cellars," Fredrick related in his own testimony before the Committee.
Resistance to Bill S 125 Remains on Beacon Hill
Despite the enthusiasm among wine enthusiasts for the bill, Representative Jennifer Benson, a Democrat from Lunenburg and co-chair of the Committee on Consumer Protection and Professional Licensure, noted several concerns, including that she expects the Massachusetts Restaurant Association to be in opposition.
"If you're an establishment that has already gone through, gotten the licensing to serve, and you stocked to serve, and then other people start bringing in their own bottles, it seems like it would definitely cut into your business," said Benson.
Rep. Benson also expressed concerns about enforcement of the potential law, as well as questions of liability if a consumer over consumes. "If you're bringing in your own bottle, who bears the liability of serving that bottle in the restaurant?" she asked.
"I have reservations, and not a pun, as in 'restaurant reservations,' expressed Benson at the conclusion of the Committee meeting.
Colonial Spirits Here to Happily Serve You Regardless
At Colonial Spirits, we'll be keeping a close eye on bill S 125 as it makes its way through the Massachusetts legislative process. However, regardless of what becomes of bill S 125, we'll be here to provide you with the best way to buy wine online in Massachusetts and ship wine to Massachusetts in existence!
So, head on over to our Massachusetts online wine shop and order yourself up a shipment of a case or two of your favorite wine today! Who knows… perhaps you'll soon have the opportunity to enjoy it at your favorite local restaurant!
(Source: Wine lovers look to bring their own vino into more restaurants, Brookline.WickedLocal.com, 6/3/15)