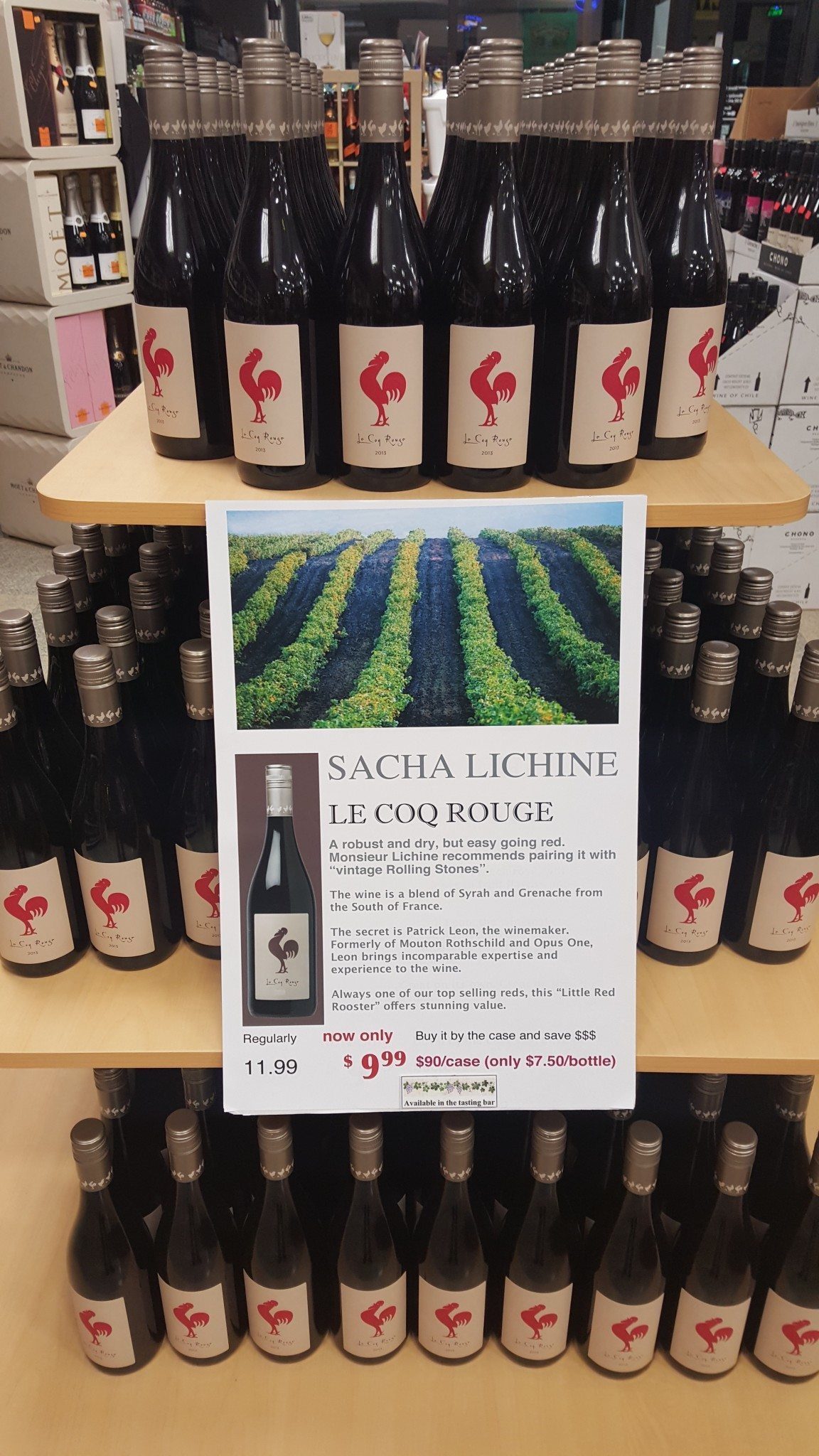 As many of you know, our 'Wine of the Month' display, just beyond the entrance to the store has earned a reputation for delivering great value.
We seek out wines that you may not have seen before but offer exceptional quality.  Exploring wine should be fun and our wine of the month makes trying something new easy.
To sweeten the deal even further, we always offer these value-driven wines at a special discount, and right now we've got… Le Coq Rouge, regularly $11.99, ON SALE FOR $9.99 PER BOTTLE AND $90 PER CASE ($7.50/BOTTLE)!

Le Coq Rouge – The Everday Red for All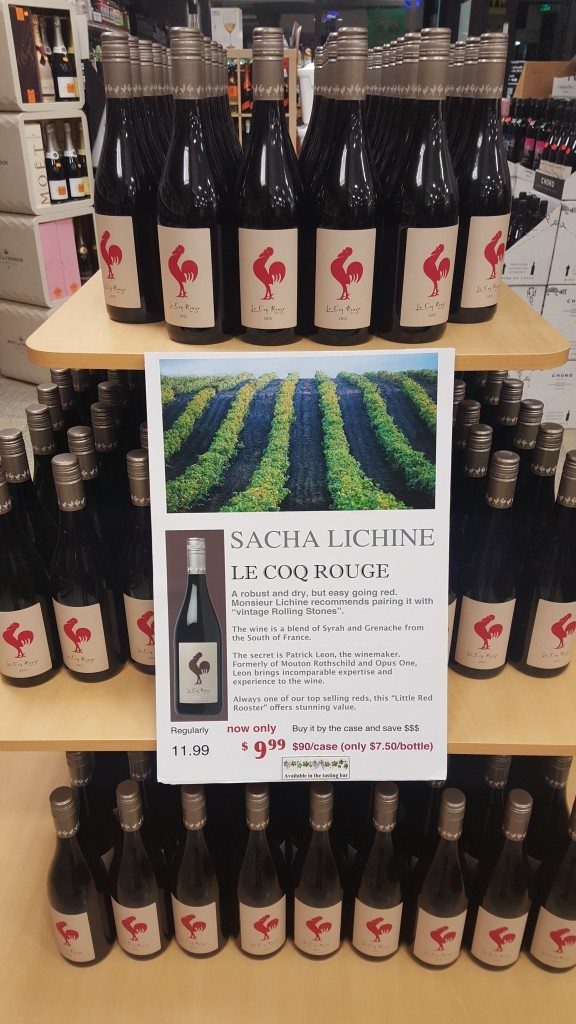 Don't make the mistake of comparing the quality of the Le Coq Rouge to its price, as quality stomps price in this instance.
Le Coq Rouge simplifies itself by showcasing a simple, yet eye-catching, label, but only to keep the unadventurous at bay. Those that are willing to give this bottle a try are richly rewarded, all others miss out on a wonderful opportunity.
A Rhone blend consisting of Syrah and Grenache from the Herault region of the  South of France, this is a the easy-drinking, softer, and more approachable alternative to the thicker skinned Cotes-du-Rhone AOC.
A Legend in the Making
Le Coq Rouge may not have the mouth dropping reviews or the world shaking demand, but, instead, it has the supporting staff to catapult it to legendary status in no-time.
The brainchild of two of the most recognized names in the wine business — Sacha Lichine and Patrick Leon.
Sacha the son of renown winemaker and wine educator Alexis Lichine. Having been fortunate to have learned how to make wines from one of the best, and having studied in the US, Sacha knew that what the US market was yearning for was not what France was producing. In an effort to take advantage of this new found knowledge/realization, Sacha immediately hired an asset, who so happened to be none other than Patrick Leon.
Patrick Leon's name may not jump out at you immediately, but some of his best works might — Opus One, Chateau Lascombes, and Chateau Mouton Rothschild. Leon is a consulting oenologist that has taken his many years of experience and has lent it to Sacha in an effort to help make the very best wines he can. Leon and Sacha together have made the world's most sought after rosés — Chateau d'Esclans — and are now embarking on the journey to rid the world of bad inexpensive wines one wine enthusiast at a time.
Colonial Spirits Always on the Lookout for the best value in Wine
At Colonial Spirits of Acton, we're always on the lookout for new wines that bring great value to our customers. Contrary to popular belief, you don't always need to spend a lot of money to drink high-quality wine… but you do need to be selective.
Any wine that appears in our special wine display at the front of our store has been hand selected by Colonial Spirits for its quality and its price, that is to say, its value… and then we discount it even further.
So, visit Colonial Spirits today to pick up our latest offering, Le Coq Rouge, today. And remember, Colonial Spirits is your source for buying wine online in Massachusetts and shipping wine to Massachusetts too.